June 30, 2022
Happy birthday, America!
Monday is Independence Day, the 246th anniversary of the ratification of the Declaration of Independence. However you plan to celebrate, have fun and stay safe!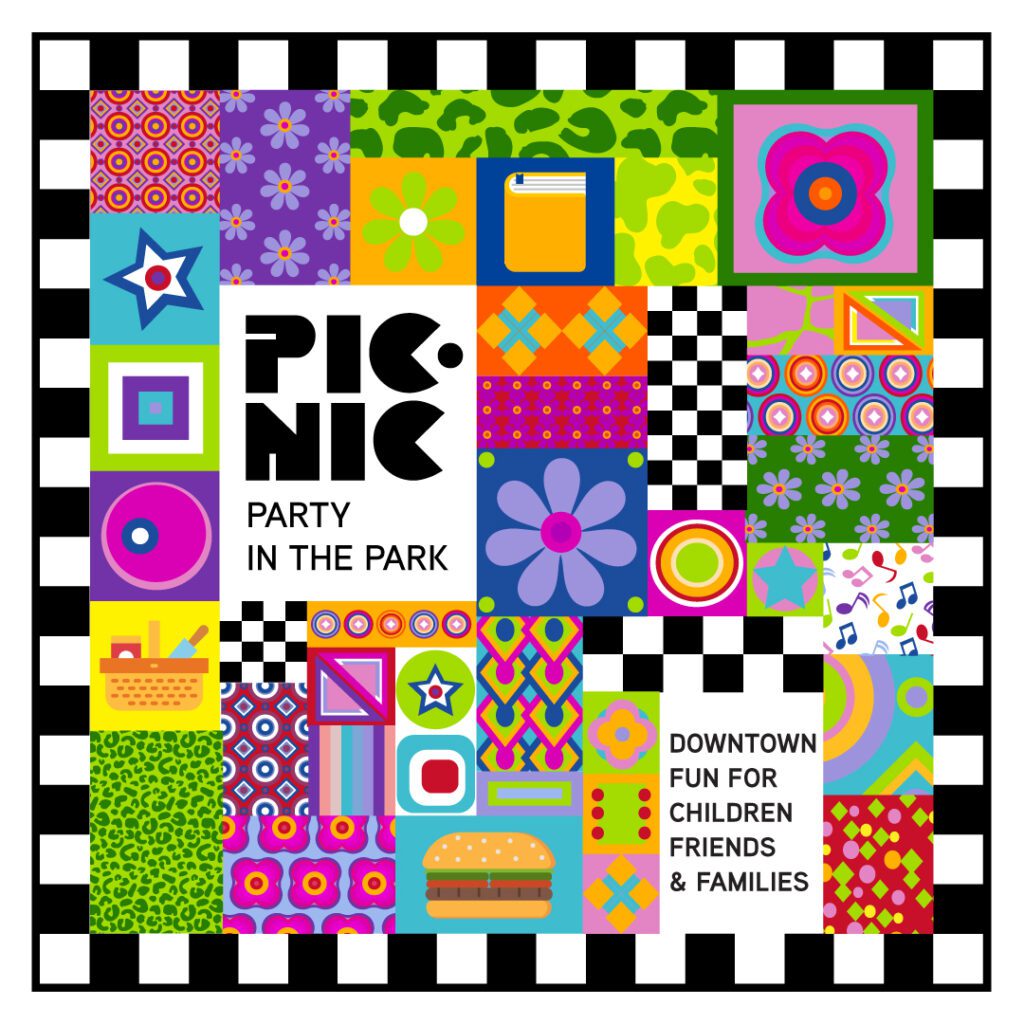 Summer in New Rochelle Downtown
New Musical Adventures and
Creative Dining Awaits!
July is here, and so is plenty of Downtown's Summer fun! Culture, creativity, and art all await you this month.
It all begins with the annual International Music and Dance Festival, which is sponsored by the New Rochelle Public Library (NRPL), Friends of the NRPL, and the NRBID. Held on Tuesday evenings in July, this long-loved festival begins the new season on Tuesday, July 12, at 7 pm in the wonderfully air-conditioned Ossie Davis Theater with the Redhawk Native American Dance Troupe. Following Tuesday evenings will feature the Bokandeye African Dance Theater on July 19 and the Nai Ni Chen Chinese Dance Troupe on July 26.
We're also excited to bring our new, super-fun PIC*NIC Party in the Park program to Library Green's Ruby Dee Park. Brought to you by the NRPL, Friends of NRPL, and the NRBID, it's a great way to join your neighbors for casual conversation, great eats, and fabulous entertainment.
Here's how it works: On the day of or before, order your PIC*NIC meals from any one–or more!– of our participating Downtown restaurants. Before you come to the park, stop by to pick up the delicious "to-go" boxed meals put together especially for you. Then, come to Library Green's Ruby Dee Park and enjoy your dinners along with the terrific entertainment we have scheduled for children, friends, and families.
PIC*NIC Party in the Park begins at 6pm on Thursday, July 14, with the City Winds Trio and an evening of Ragtime music. It's going to be an interactive performance with opportunities for park visitors to help conduct the trio — and more!
There will be other great entertainers performing on July 14 and 28, as well as August 11 and 25, including such creative shows as Pretzelstein and Evan the Magician: Magic Show and VIP Magic Class.
Registration is requested here. The link for the Restaurant PIC*NICs opens next week.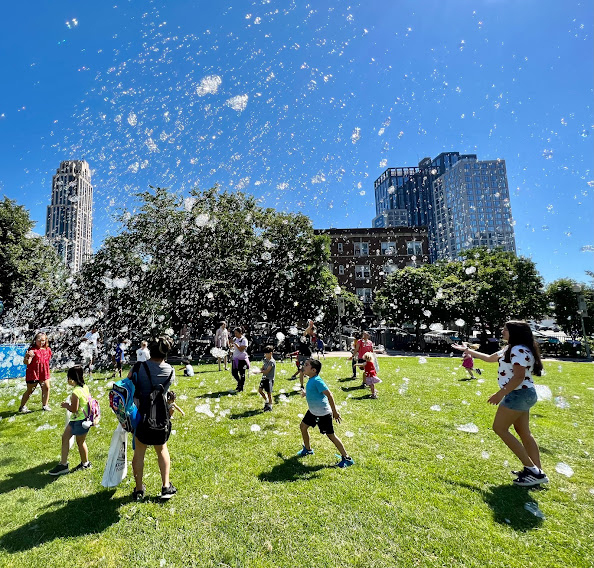 Summer Reading Program is Back!
Hundreds Attend Kick-Off Party at NRPL
Last weekend, the NRBID partnered with the NRPL to kick-off this year's Children's Summer Reading program.
Families, friends and children – including some of our newest neighbors who just moved into Downtown's new apartments – joined us at Ruby Dee Park for a morning that celebrated reading, moving, laughing, and more.
The program's themes this year is "Oceans of Possibilities" and the kick-off event certainly got into the spirit with plenty of ocean- and fish-related décor. Children had a great time chasing the ocean of bubbles that floated about courtesy of the Bubble Bus, getting their temporary fish-themed tattoos (airbrushed, of course), and creating some impressive sea-creature crafts. Giveaways from the NRPL, the NRBID, and the New Roc Regal Cinemas added extra smiles.
Most exciting for the children: Everyone who signed up received a free book as part of the Library's bag of goodies.
It was a great event thanks to the NRPL Staff, Friends of the New Rochelle Public Library, the New Rochelle Parks Department and our NRBID team who helped out. We also thank the children, friends, and families who attended the kick-off. A record number–more than 200– signed-up for the Summer Reading Program this year!
The NRPL will be having so many creative and engaging activities all summer for children and teens. Click here for the full schedule.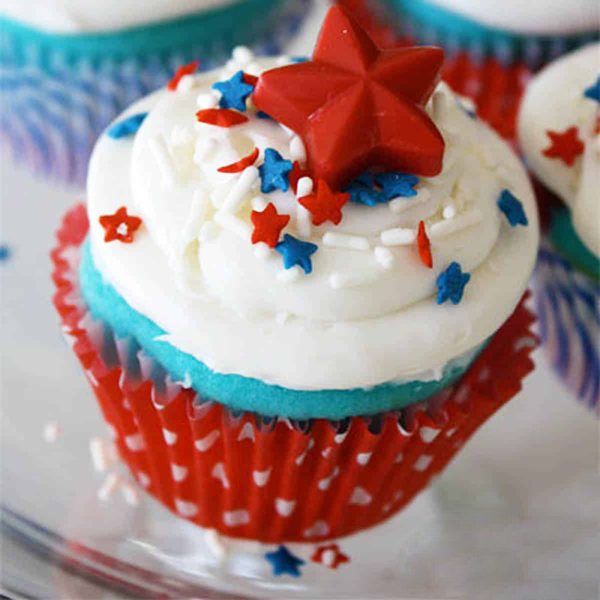 Celebrate the Fourth Downtown!
We'll Have Plenty of Red, White, and Blue for Everyone
While the City and Parks Department plan to light up the sky above the sound this Monday with colorful fireworks starting at 9:30 pm, there will be plenty of ways to get your red, white, and blue on all weekend at our Downtown eateries.
Here's one way:
Red: Enjoy the T-bone steak rare at Magno's Grill
White: Order a great pasta dish with white sauce at Posto
Blue: Sip on a Blue Martini at Modern
Here's another way:
Red: Go for SmokenSpice's amazing Caribbean Salmon
White: Stop in for a Vanilla Bubble Tea at YUM
Blue: Treat yourself to a blue-frosted cupcake at Alicia's Bakery
Try it. The combinations are endless!
Take a picture of your red, white and blue fun Downtown and share it with us by tagging @newrodowntown on your social media!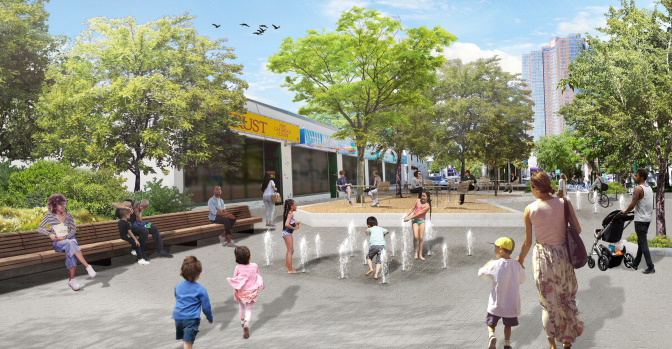 Anderson Street Plaza Renovations are Underway
We are excited to see the wonderful work underway to make the Anderson Street Plaza (between North Ave and LeCount Place) more shopper- and pedestrian-friendly.
The City is working with developers of the Stella to renovate this area so that it is more open and welcoming for those looking to enjoy an outside meal or pass the time with a good book or friend.
Renovations began two weeks ago and will continue until later this fall.
All the Anderson St shops, restaurants, and businesses are open, including Golden Krust, RocNRamen, Splendid Diner, SmokenSpice, YUM Ice Cream, Town Pizza as well as Heritage Auto School and The Guidance Center. Please continue to stop in while the renovations are underway outside.
If you're just looking to explore the local area, follow the music you may hear at the corner of Main and Huguenot to the new mini-park called NewRoParc.
The space will be developed as part of the second phase of the elegant new Stella Building. For now, it is being used creatively for the community as a destination for live music all Summer long on Fridays at 7:30 pm and Yoga on Saturday mornings at 8:30 am.
These NewRoParc programs are part of the community benefit partnership the City has with developers Wilder Balter Partners, L&M Development Partners, and the New Rochelle Council on the Arts.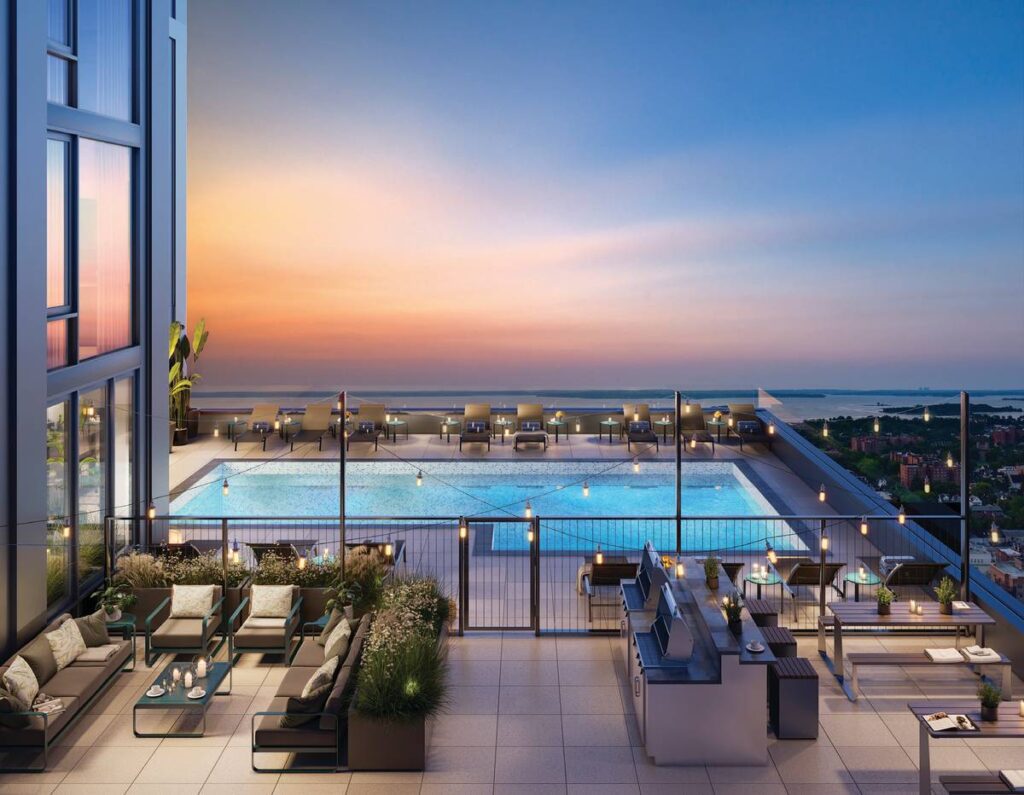 "Scene" from Above:
Gorgeous Rooftop Pool Views
The unique views that New Rochelle Downtown has to offer are the gift that keeps on giving, whether from our many apartments or from the luxurious rooftop pools in some of our new buildings.
At the Skyline, friends and families have been sunning themselves atop the 27-story building for more than a dozen years. Their mini-vacation in the sky is just an elevator ride for tenants!
A wonderful oasis can also be found on the 26th floor at the new Stella. There you will find an elegant new rooftop pool, a deck with cookout grills, and a stunning sound-view expanse where you feel you could touch the sky forever. Who needs anything more?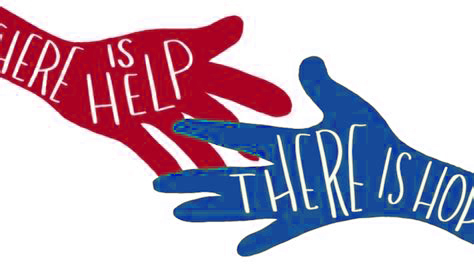 Downtown's The Guidance Center Offers Suicide Prevention Trainings
The Guidance Center of Westchester (17 Anderson St), an affiliate of Access: Supports for Living, will be offering free suicide prevention training via Zoomon July 11 and July 18 for the local community.
The program is designed to help people recognize the signs of someone who may be suicidal and know what to do to help.
Data suggests that 62% of people who are thinking about suicide tend to talk about it with a close friend or family member. The Guidance Center's QPR Suicide Prevention Training goes over three important life-saving tools to use when talking to someone who may be suicidal. QPR stands for Question/Persuade/Refer. You just may learn something that will save a life one day. Register here.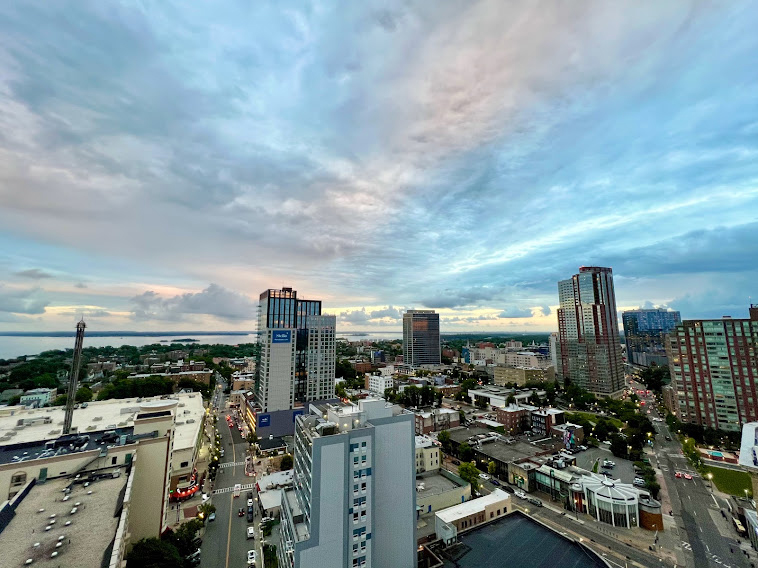 Whether it is graduations or weddings or holidays, family or personal milestones, our restaurants are serving you fresh memories and good food. They will even be "catering" your PIC*NIC!
So much to do and see and we are doing it in celebratory style here in New Rochelle Downtown.
Come join us and celebrate all of our Downtown progress, music, culture and summer fun!

Karel

Karel Littman,
Executive Director
New Rochelle Business Improvement District (NRBID)
newrochelledowntownbid@gmail.com
PS FOLLOW us on Instagram (@newrodowntown) and LIKE us on Facebook (@newrodowntown).