We implement and manage programs that make Downtown New Rochelle a clean, safe and beautiful place to work, visit, and play.

Clean Streets & Beautification: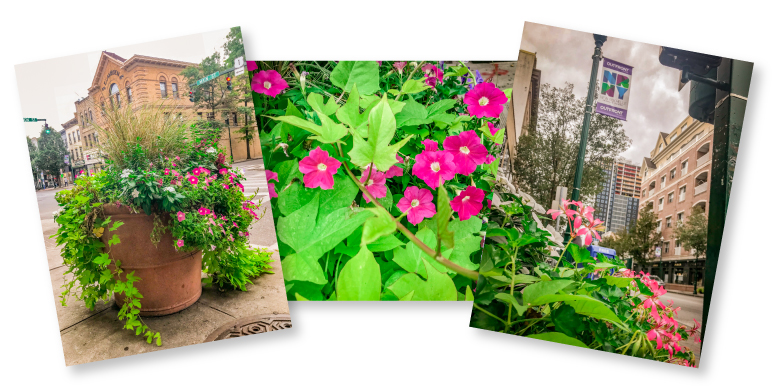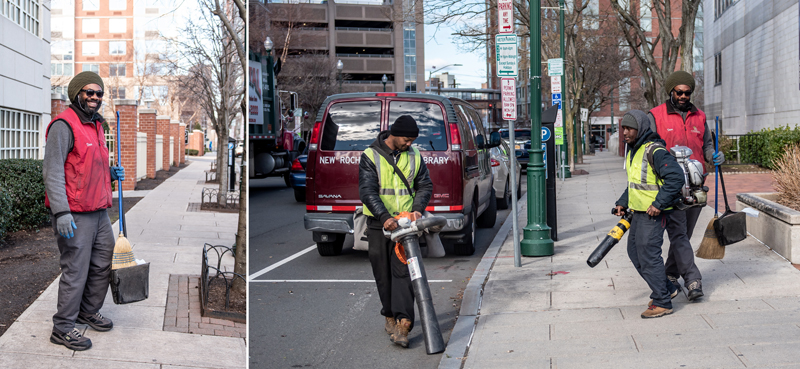 Our Downtown Clean Streets Program, run in partnership with the City of New Rochelle, keeps sidewalks and parking facilities free of litter seven days a week. The NRBID also handles fall leaf removal, snow removal at crosswalks, landscaping maintenance and sidewalk power-washing.

With assistance of our professional contracted landscaper, we plant and maintain large planters filled with seasonal displays. Enjoy pansies in the spring, colorful annuals mid-summer, and ornamental cabbages with decorative branches late fall/winter at major intersections and at public spaces such as Anderson Plaza and Memorial Plaza.

Business and Restaurant Support:
Promotion, Marketing and Public Relations:
Downtown New Rochelle has a wealth of historic buildings, delicious restaurants, vibrant mom and pop storefronts, and cultural assets. The NRBID keeps the public aware of Downtown's resources and any news affecting the area. In addition to this website, we publish a regular e-newsletter and have an active presence on Facebook (see NRBID) and Instagram (@NRBID). With our help, New Rochelle's Downtown activities and new developments continue to receive coverage in local, regional and national publications, including The New York Times and WABC's Eyewitness News. The NRBID also maintains a kiosk in the Metro North train station that allows commuters to check on news about Downtown, and learn about upcoming events, business promotions and new openings.

Public Events:
Downtowns thrive when there are a variety of fun and free activities for the public to enjoy. NRBID presents its own year-round roster of signature events, including:

NRBID Family Days, a year round variety of performances, craft workshops, films, scavenger hunts and much more, in partnership with the Public Library, the City School District and the Department of Parks and Recreation.

New Rochelle Farmers Market: a weekly seasonal farmers market and festival providing fresh-picked produce and lively entertainment. Due to covid-19 concerns we will be postponing the market until 2021.
Bastille Day in New Rochelle: A celebration of all things French and a nod to New Rochelle's French heritage, with crepes, French games, live music and plenty of giveaways.

Touch-A-Truck Downtown: A one-day family-friendly exhibition of large vehicles that help the City run: diggers, police cars, firetrucks and more.

NRBID Family Fall Festivals – Downtown Window Painting and Merchant's Urchin's Halloween Parade: NRBID gets into the spirit of autumn with two popular activities. Children are invited to register to paint the storefront windows of local merchants with seasonal designs. The following week, families march through the streets of Downtown in Halloween costume, ending at Ruby Dee Park at Library Green for a Halloween festival complete with pumpkin painting and (not-so-spooky) entertainment.

Concerts and Movies on the Green. The NRBID periodically offers evening concerts on Thursday nights, on Library Green in front of the Downtown Public Library. The concerts feature a variety of music from Zydeco to Brazilian to Jazz along with dancing. Occasionally, the NRBID presents an outdoor movie night. Families are encouraged to dine Downtown and then roll out a blanket in front of the giant screen at Library Green.

Games on the Green: In 2016 the NRBID invested in several large-scale lawn games, including life-sized Jenga, Connect Four, cornhole and ping pong. Starting in 2018, we will host several Games on the Green days where we pull out the our lawn games, along with tried-and-true popular board games, for some good ol' fashioned fun for all ages.