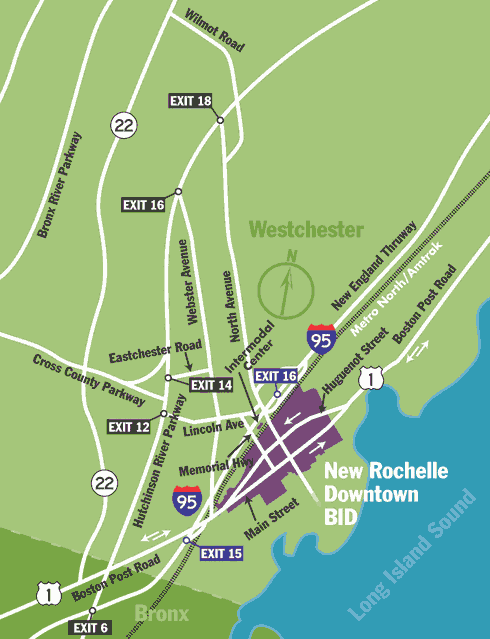 Downtown is represented by the New Rochelle Downtown Business Improvement District ("NRBID" or the "BID"). Established in 2000, NRBID is a non-profit association of over 800 business and property owners whose prime goal is economic development, new business, and new investment. As part of its mission, the NRBID is also devoted to assuring clean and safe streets, adequate parking, and exciting Downtown activities and events.
NRBID receives its revenue from an annual assessment on all real property located within the boundaries of the NRBID, and through a combination of grants and sponsorships.
We are governed by a 13-member Board of Directors that includes NRBID Property Owners, Local Business Owners, City Representatives (as required by law), and Residents.
Our Board's Quarterly Meeting Dates for 2022 are:
Tuesday January  25, 2022 11am
Tuesday April 26, 2022 11am
Tuesday June 21, 2022 11am
Tuesday July 19, 2022 11am
Wednesday October 19, 2022 1pm
Tuesday December 13, 2022 11am
For more information contact J Naccari, Secretary to Chairman at JNaccari@monroecollege.edu or K Littman, Executive Director at newrochelledowntownbid@gmail.com
Board of Directors:
Sebastian Aliberti
Modern Restaurant
Joseph V. Apicella
Cappelli Organization
Ciro Chechile
393 Huguenot Street
Joseph​ Graziose
RXR Development Services
Joel Gendels
Cornell Pace, Inc.
Edward J. Hart
Kaufman Realty Corporation
Marc M. Jerome, Chairman
Monroe College
Robert D. Kahn
553 Main St Corp/Stamford Enterprises
James O'Toole
Resident Representative
Louis Panico
Al Rovins Locksmith Inc.
Charles B. Strome III, Vice Chairman
City Manager, City of New Rochelle
Albert Tarantino, Secretary
New Rochelle City Council Representative
Edward Ritter, Treasurer
Commissioner of Finance, City of New Rochelle
Karel Littman
Executive Director