Welcome to Downtown New Rochelle. We are a historic and walkable commercial district serving a city of nearly 80,000. Here you'll find mom and pop shops, restaurants ranging from Mexican to Korean to Soul, Westchester-County's busiest library (complete with its own public theater), and a nationally-recognized culinary school, the Culinary Institute of New York at Monroe College.

Downtown New Rochelle is also home to New Roc City, a major entertainment complex complete with a bowling alley, mini-golf, indoor trampoline center, Barnes and Noble college bookstore and a large movie theater with IMAX screens and reclining seats.

At the heart of it all is Ruby Dee Park at Library Green, Downtown's main green space, where children play, neighbors exchange news, and everyone enjoys the greenery and fresh air.
Getting Here and Oriented: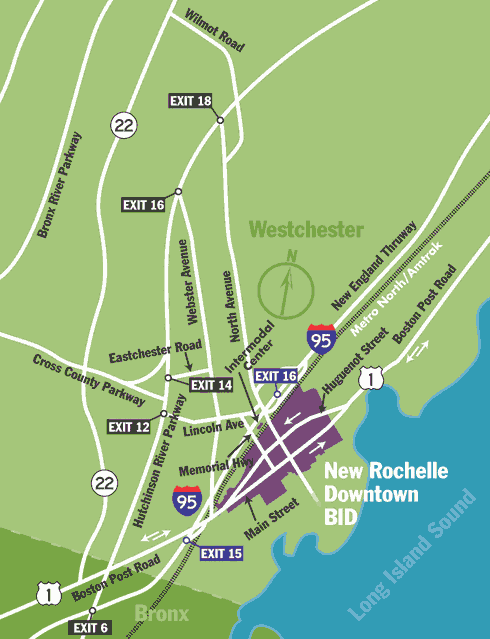 Downtown's main shopping corridor is Main Street. There are clusters of retail and restaurants on Huguenot, which runs roughly parallel to Main Street, as well as on interconnecting streets (eg. Locust, North Avenue, Memorial Highway, Division Street). New Roc City and Monroe College are both on the northeastern portion of Downtown, while the Library and Ruby Dee Park at Library Green are more centrally located, just south of the train depot.
Our District is easy to get to via mass transit.
Just off Huguenot, between North and Memorial Highway, the New Rochelle Transit Center offers Metro-North service to New York City via the New Haven line, and Amtrak service to Boston, New York and Washington, D.C. Our New Rochelle Transit Center also houses our bus terminal which features many bus runs–as many as 300 buses per day. This makes it that much easier to get to our Downtown from New York City and the surrounding municipalities in Westchester, Connecticut and beyond. We also have frequently driving taxis, online car services through the apps and airport limousine services.
For those who drive, we have a combination of on-street parking spots with metered parking throughout the District and self-park parking decks with automatic payment methods available.
Our on street parking as well as the large lots at our Transit Station and New Roc City section have convenient payment stations. You can also use the easy-to-download Park Mobile app to pay for and renew time. For more information on parking here, go to City of New Rochelle's parking page.