February 28, 2022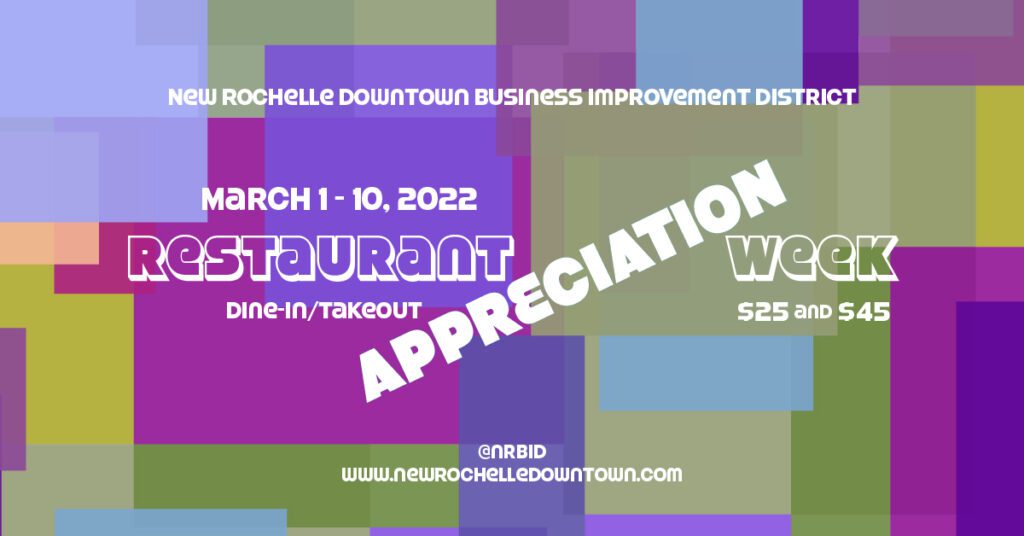 Restaurant APPRECIATION Week Begins Tomorrow!

Downtown Dining Spots to Offer Tasty $25 and $45 Menu Specials from March 1-10 Downtown New Rochelle is home to dozens of terrific restaurants, eateries, and dining spots. Starting tomorrow, March 1st, we've teamed up with many of them for Restaurant APPRECIATION Week (really 10 days). It's a wonderful way for them to showcase their culinary flair and creative dishes while also showing their heartfelt appreciation to their neighbors for dining locally.

More than two dozen of our New Rochelle Downtown Restaurants have put together Restaurant APPRECIATION Week menu "Specials" priced at either $25 and $45, with items available to enjoy dining in on site or as take-out to be relished at home.

Perhaps you've already heard about it from the tv commercial now running on local channels. If not, you can see it here.

Please join us tomorrow through the 10th to celebrate our wonderful chefs who share their passion for food – and some of their dearest family recipes – with us Downtown.

Click here for the list of participating restaurants and their tempting specials.
---
Mayor Bramson Lauds Downtown's Progress in State of the City Address
In case you missed it, Mayor Noam Bramson recently gave his annual State of the City Address.
We were delighted to hear his update on Downtown's progress.
There are so many wonderful things happening in our City. If you missed the Mayor's inspirational update, you can watch it on YouTube here.

Tomorrow night will be President Biden's State of the Union Address, which you can watch on the major networks starting at 9:00 pm.
---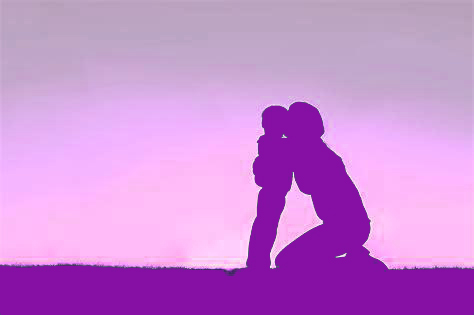 New Ro Downtown Welcomes Facility Exclusively Focused on Early Childhood Mental Wellness
While the last two years have proven very challenging and stressful for people of all age brackets, research has shown that the pandemic and its harmful impact on families have been especially trying for very young children.
There is now a special place in Downtown where the families of young children can turn to for help. It's called the Early Childhood Mental Health Clinic.
This wonderful new community resource is made possible by a new partnership between The Guidance Center of Westchester and Access: Supports for Living, an organization dedicated to helping people live the healthiest and fullest lives possible The two signed an affiliation agreement last August to open the Early Childhood Mental Health Clinic at their existing child care site at 17 Anderson St.
The new Early Childhood Mental Health Clinic is the first such center licensed by the New York State Office of Mental Health (OMH) to meet the special needs of very young children (under five years of age).
The addition of the new Early Childhood Mental Health Clinic means that there are now credentialed mental health professionals available (by appointment) to help parents address the special emotional needs of very young children.
The Guidance Center has provided similar resources to adults, teens, families, and groups via its Integrated Mental Health & Addiction Services at 150 Huguenot St. Mental health counseling for individuals, families, and groups is available there by appointment.
Click here Early Childhood Mental Health Clinic to learn more about the Early Childhood Mental Health Clinic. Call 734-785-7700 to make an appointment.
---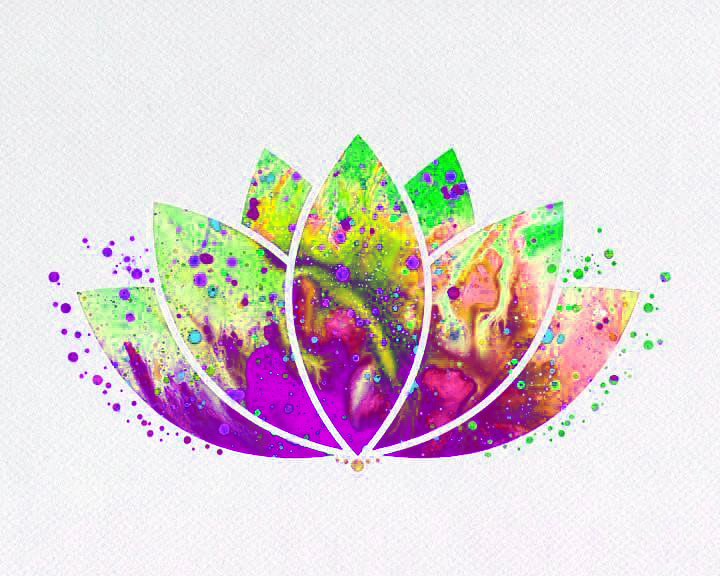 Relax! Breathe!

Library's Gentle Yoga Program to Resume Next Week
Staying calm and centered is front and center these days.

Good news: the New Rochelle Public Library is here to help. Its Yoga and Meditation Series, wonderfully led by Angela Taylor, will be starting up again on Tuesday, March 8, with the first session taking place from 6:00-7:30 pm. Register here to save a spot for your yoga mat! Each session will feature a 45-minute yoga class followed by a 45-minute creative meditation.

It's your sure and gentle way to feel restored after the long winter!
Please see here to see other great programs listed on the Library's Events Calendar.
---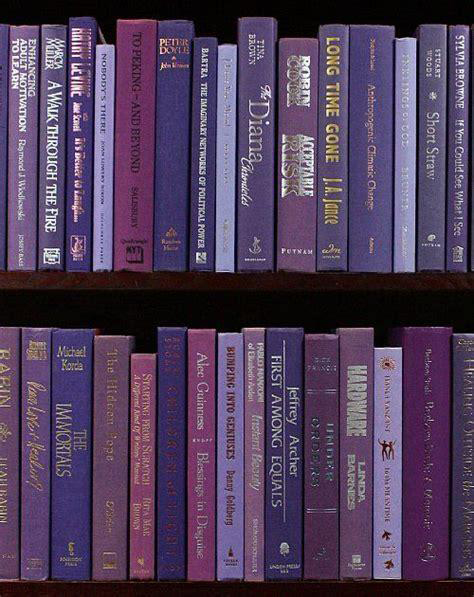 Save the Date: NRPL Foundation Announces this Year's Gala Will Take Place in May
Speaking of fabulous NRPL events, be sure to mark your calendar for the New Rochelle Public Library Foundation's annual fundraiser.
The Guardian Gala – always a terrific event – will take place this year on May 12 at the Greentree Country Club.
CBS-TV reporter Tony Aiello will serve as the evening's Emcee. Please plan to come out and support our friends at the Library.
We'll share more information as it becomes available. To learn more, please see here.
---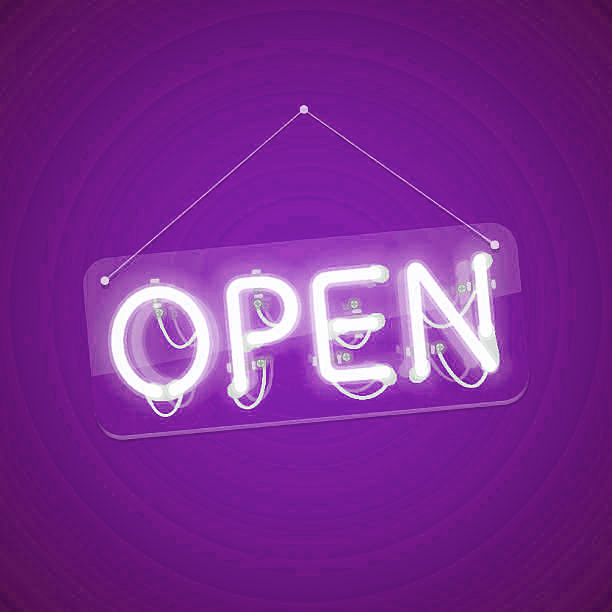 News from Downtown:
Updates on New and Expanding Businesses
Great things are happening Downtown. Take a look:
There will soon be another "Joe" in town – a new cup of Joe that is. We look forward to welcoming Cafetero at 111 Centre Ave., currently readying for a spring debut in the new Modera building. It promises to be a hip place to sip and meet friends in this beautiful new building.
Townhouse Restaurant will soon be joining our wonderful list of Downtown eateries. They expect to cut their ribbon at 559 Main St. later this month. There is already great buzz about Townhouse, its food, and promising arts scene.

Hair House, the new salon at 360 Huguenot is getting its final touch-ups before opening. Although the salon may be new, its team has been honing their craft for years. Indeed, tv personality Katie Couric is said to be a long-time client of one of its stylists.

Renovations are underway at 530 Main St., the corner of Main St and S. Division St, for KRAVE's exciting to-go, take out shop. Here, Krave will serve more of its "modern take on traditional Caribbean cuisine." Sounds terrific!
Among some of the new openings you may have seen around Downtown: Westchester Audi at 28 Harrison St; Ava Ava Restaurant at 13 Division St, NFM Gourmet Deli at 231 North Ave (corner of Anderson St.) and Shirley's Indian at 23 S. Division St. Welcome to the neighborhood!
We must also give thanks to the businesses who opened and have powered through during the height of the pandemic. They include: Pinkberry at New Roc City, KnockOut Boxing at 236 North Ave, FreshNGreen at 106 Centre Ave, and Four Brothers Pizza at 23 Division St.
We are excited to see a number of Downtown businesses relocating to bigger spots as a result of their success and Downtown dedication. Liebman's Uniforms, part of the Downtown community for 95 years, moved into the beautiful (former Palace) building at 518 Main St. last year as part of a business expansion. More recently, El Michoacana Restaurant moved to a larger space at 615 Main St. Other big moves" The House of Wine shop moved into the former Payless Shoes location at 479 Main St., Our Closet Consignment Shop moved to a new space at 13 S. Division St., and Venecia's Pizza has just moved into 4 Lawton St.
Coming up, watch for the new, centrally located City of New Rochelle Parks and Recreation Community Center to soon start construction at New Roc City.

To top off all of this activity, the City has announced the formation of a new Retail Task Force. Mayor Noam Bramson discusses this group in his State of the City address. The Task Force will be working on the recruitment and retention of businesses in our many retail spaces. It promises to be a welcome addition to the City's economic development efforts, especially as it will include residents' input to keep our Downtown transformation moving forward.This is a text block. You can use it to add text to your template.
---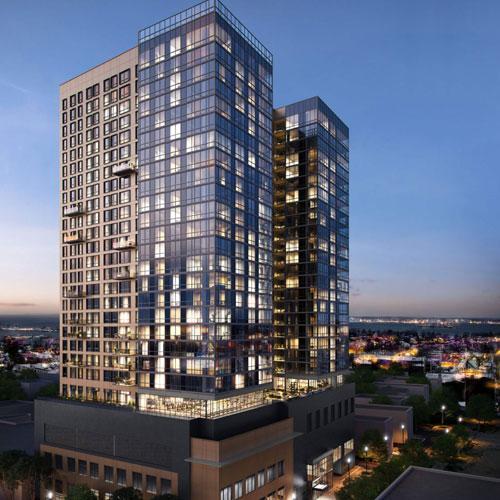 Change – and the promise of Spring – is certainly in the air here in Downtown.
You can feel it as you walk around and see new and old businesses blooming and wonderful new additions reshaping Downtown's skyline.

More than 6,700 people recently enjoyed our new Downtown views that we featured on our @nrbid Instagram account. See two of our newest apartment buildings and their amazing 22nd floor views that we posted on the easy-to-remember day of 2-2-2022.

With Spring just weeks away, we are sure that the enjoyable meals and moments you experience during our Restaurant APPRECIATION Week will help you spring forward with some extra pep in your step and a smile on your face.
Karel

Karel Littman,
Executive Director
New Rochelle Business Improvement District (NRBID)
newrochelledowntownbid@gmail.com
PS FOLLOW us on Instagram (@nrbid) and LIKE us on Facebook (@nrbid).