November 22, 2021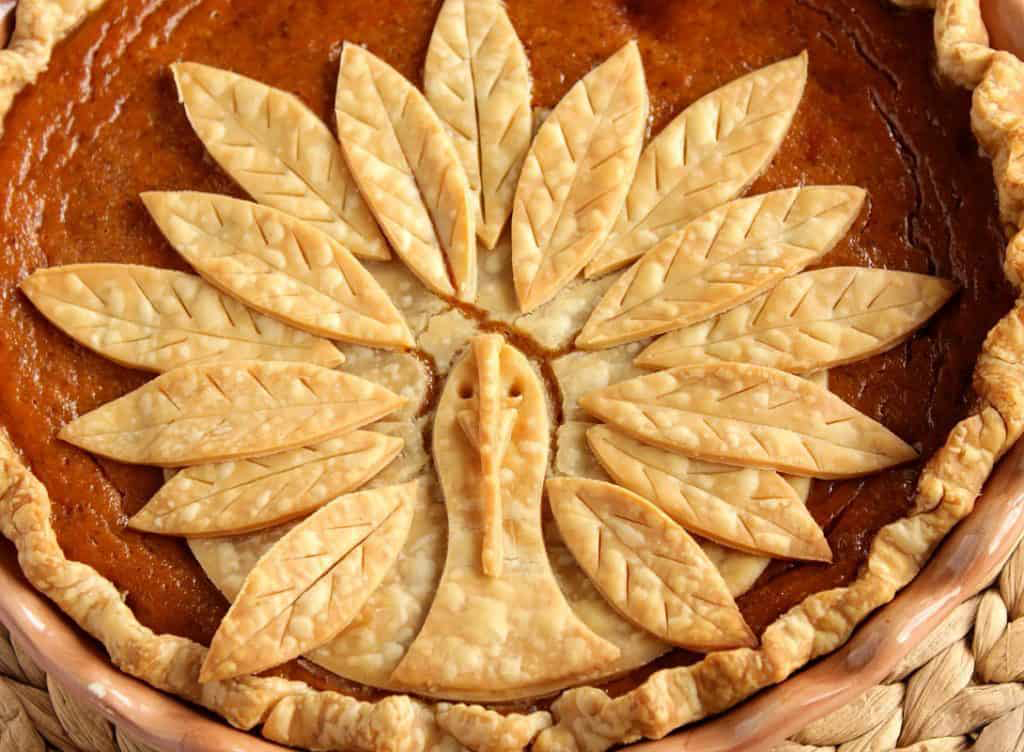 Thanksgiving is Here!
Wishing Everyone a "Sweet" Celebration
As the Thanksgiving holiday approaches, the NRBID and Downtown merchants send you and your family best wishes for a joyful holiday celebration.
Whether you are expecting a big day surrounded by family and friends or a smaller, more intimate dinner, our Downtown merchants and restaurants have just what you need to end the meal on a sweet note.
You can find delicious desserts and treats for nearly every palate. Alicia's Bakery at 383 Main St will be the go-to source for fresh pies this holiday, including Apple, Cherry, Pecan and Pumpkin. Applebee's at 24 Le Count Pl at New Roc City will be serving pumpkin pie slices – but only on Thanksgiving! There's also the Hershey's Sundae Pie at Burger King at 33 Le Count Pl and the wonderful array of international dessert offerings like cannoli and flan and so many other surprises available at our local shops.
Whatever you choose, we hope you have a lovely – and delicious – holiday!
---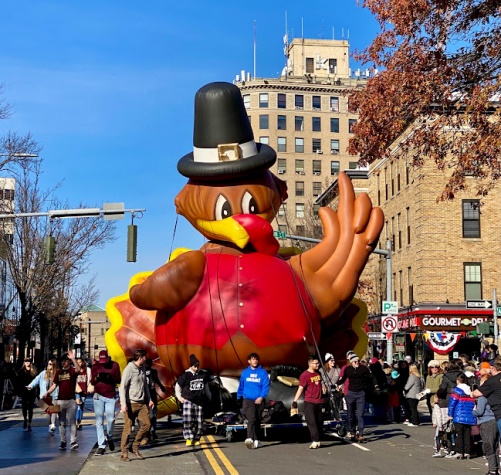 Speaking of Thanksgiving…
57th Annual Thanksgiving Parade Held Last Saturday
It was a great day this past Saturday for a parade and we were so happy to see New Rochelle's wonderful Thanksgiving tradition resume after taking a year off due to the pandemic.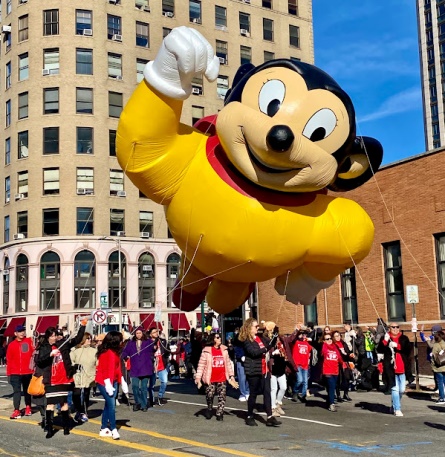 Mighty Mouse once again led the parade, which was dedicated this year to Essential Workers in recognition of their herculean efforts on the front lines of the battle against COVID-19. As Mayor Noam Bramson explained to News 12, there's a reason that float traditionally heads the line. Terrytoons Studio, the creators of the Mighty Mouse character, was located in New Rochelle Downtown at the time (in the K Building at the corner of Huguenot St and North Avenue and in the space now occupied by La Casa Grande Market at 38 Centre Ave).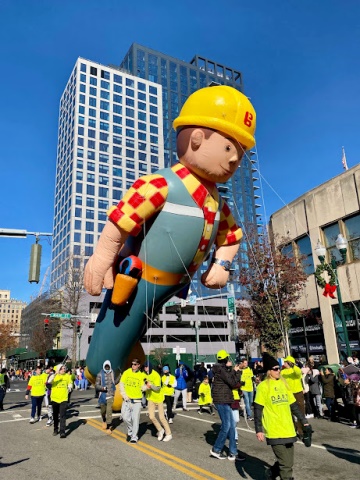 Other big balloons that floated along North Avenue included Bob the Builder (how fitting!), Tom the Turkey, Oscar the Grouch, Mr. Potato Head and Veggie Tales characters Bob & Larry.
It was a terrific event and, judging by the many smiling faces of spectators lining the route, a much-welcomed sign of the City's continued post-pandemic recovery.
We would be remiss if we did not give a very hearty shout-out of appreciation to the City of New Rochelle, New Ro Parks and Recreation, and the Chamber of Commerce for this year's parade!
---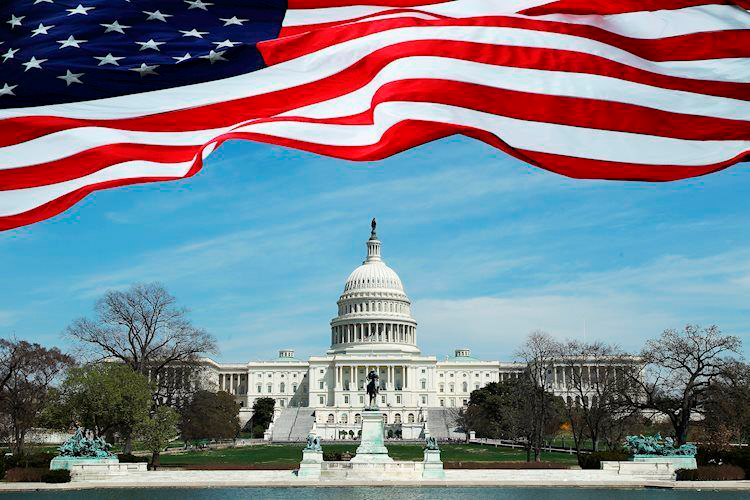 Federal Grant Funds to Make a Difference Downtown
We are delighted to share the following special message from U.S. Senate Majority Leader and New York State Senator Chuck Schumer with exciting news for the New Rochelle Downtown Community and Friends: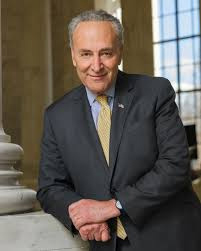 "The bipartisan infrastructure bill will jumpstart New Rochelle's economy by improving Westchester's infrastructure and creating new jobs through local construction projects that will be important for New Rochelle Downtown such as the LINC, Penn Station Access, and more" said Senator Schumer.
"Whether it's the Metro-North, critical bridges or highway repairs, upgrading Westchester's Bee-Line buses, making safety improvements at JFK, LaGuardia, and Westchester airports, bridging Westchester's digital divide, or ensuring clean drinking water for all, this bill will rebuild and revive the Hudson Valley's infrastructure and create good paying jobs for communities that need it most. As Majority Leader, I am proud to have lead this historic bill to passage that will deliver the largest federal investment in public transit and infrastructure in New York's history so that we can continue to build back better in New Rochelle, Westchester and beyond."
---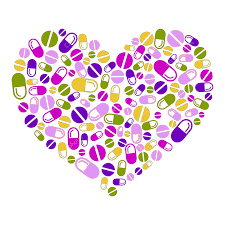 A 130-Year Tradition of Caring for New Rochelle:
Downtown's Prescription Center Helps Local Residents Stay Healthy and Vaccinated
One of the oldest continually operating pharmacies in the area, the New Rochelle Prescription Center at 551 Main Street certainly has seen many changes in the town. After all, it traces its history back to a small pharmacy called Webster Drugs that served customers back in 1890!
One thing that has not changed over the decades is its commitment to serving the health and wellness of local residents. Today, New Rochelle Prescription Center is owned by pharmacist Popat Patel R.PH, and he and his staff are proud to continue providing hometown care to the wonderful people who live, work, visit, and study in New Rochelle.
In addition to helping customers fill their prescriptions and purchase over-the-counter healthcare products, they also offer a full range of vaccines. In fact, they were featured on CBS News at the beginning of the year for their early efforts to vaccinate residents against COVID.
Be sure to stop by for your family's vaccination needs, including:
COVID-19 vaccine for all eligible ages
COVID-19 vaccine booster dosages
Flu shot
High dose flu shot for ages 65+
Pneumonia vaccine (Prevnar-13 and Pneumovax-23)
Shingles vaccine (Shingrix)
TDAP vaccine
---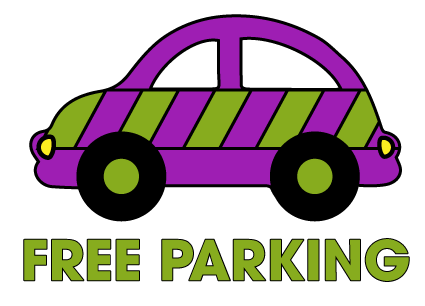 City to Give Downtown Shoppers an Early Present: Free Parking in Key Lots
The City of New Rochelle is once again making it easier to run your holiday errands here in Downtown.
For the full month of December, you will be able to park free for up to two hours in the following centrally located lots:
Library Lot on Lawton St
Library South Lot between Lawton St and Memorial Hwy
Prospect Street Lot between S Division St and Maple Ave
From Dec 3-12 the rooftop of the NR Transit Center Garage will have two hours of free parking for the Holiday Market.
So drive on down and let our shops and restaurants help you have a terrific holiday season!
---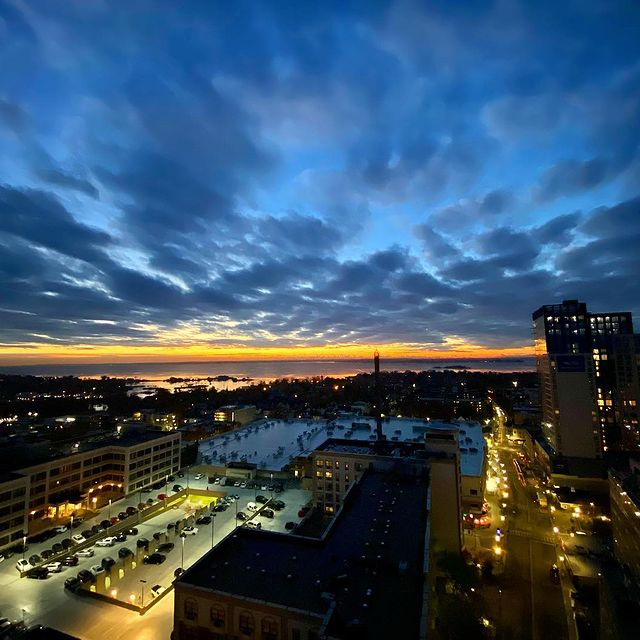 In keeping with the Thanksgiving tradition of expressing gratitude for the year's blessings, rest assured that our Downtown Merchants and Restaurants will be keeping you, our New Rochelle Downtown Friends and Families, first and foremost in their hearts and minds.
We appreciate your commitment to local small businesses, which help keep New Rochelle strong.
Please keep them in mind as you head out on Friday to begin your holiday shopping and take advantage of the "Black Friday" sales. We also hope to see you the next day, which has become "Small Business Saturday."
From our families to yours, our warmest wishes for a lovely Thanksgiving.
PS: Next up after Thanksgiving: Thursday December 2 the Holiday Lighting at Memorial Plaza and Friday December 3 the new Holiday Market begins at the Train Station.
Karel

Karel Littman,
Executive Director
New Rochelle Business Improvement District (NRBID)
newrochelledowntownbid@gmail.com
PS FOLLOW us on Instagram (@nrbid) and LIKE us on Facebook (@nrbid).