June 3, 2022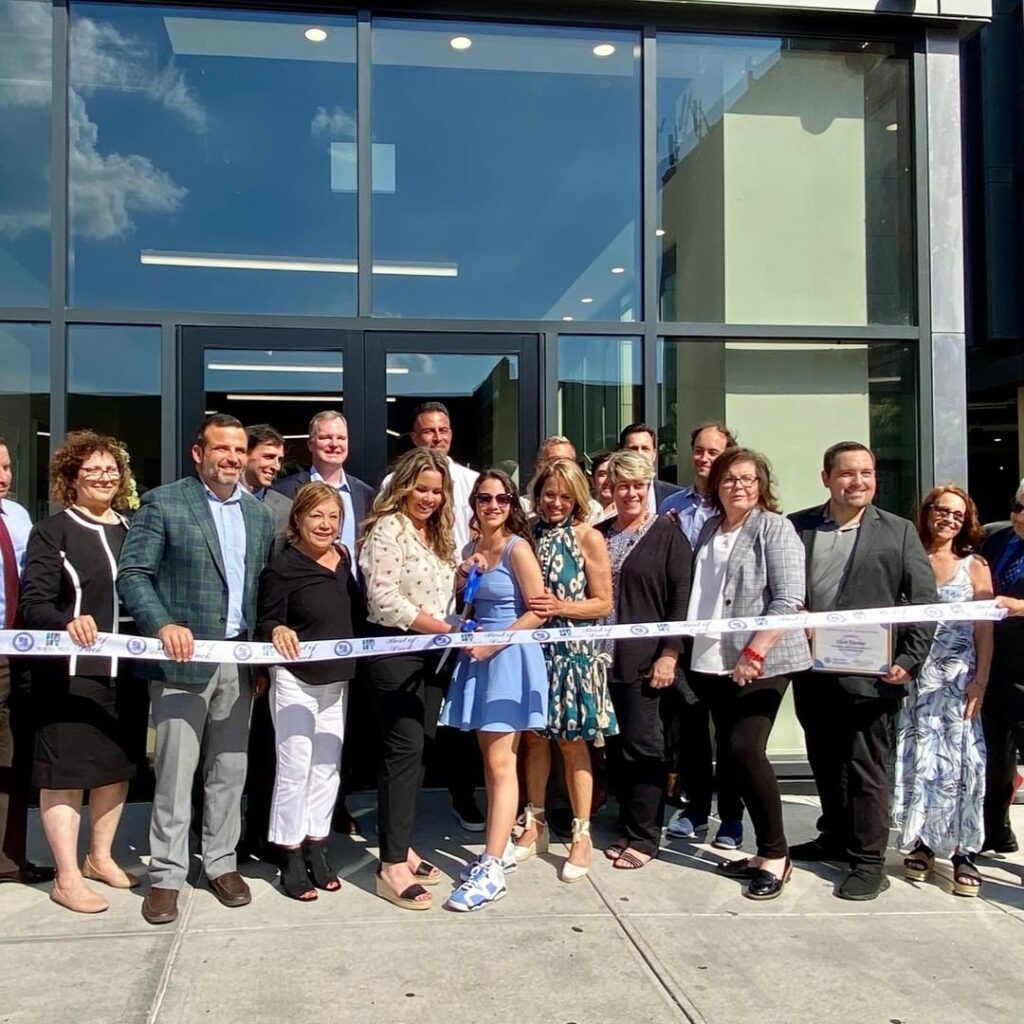 Good Morning, Hair House
The New Rochelle Downtown BID was proud to declare Tuesday, May 31, the "best hair day" yet when our newest salon, Hair House, officially cut the ribbon at 360 Huguenot.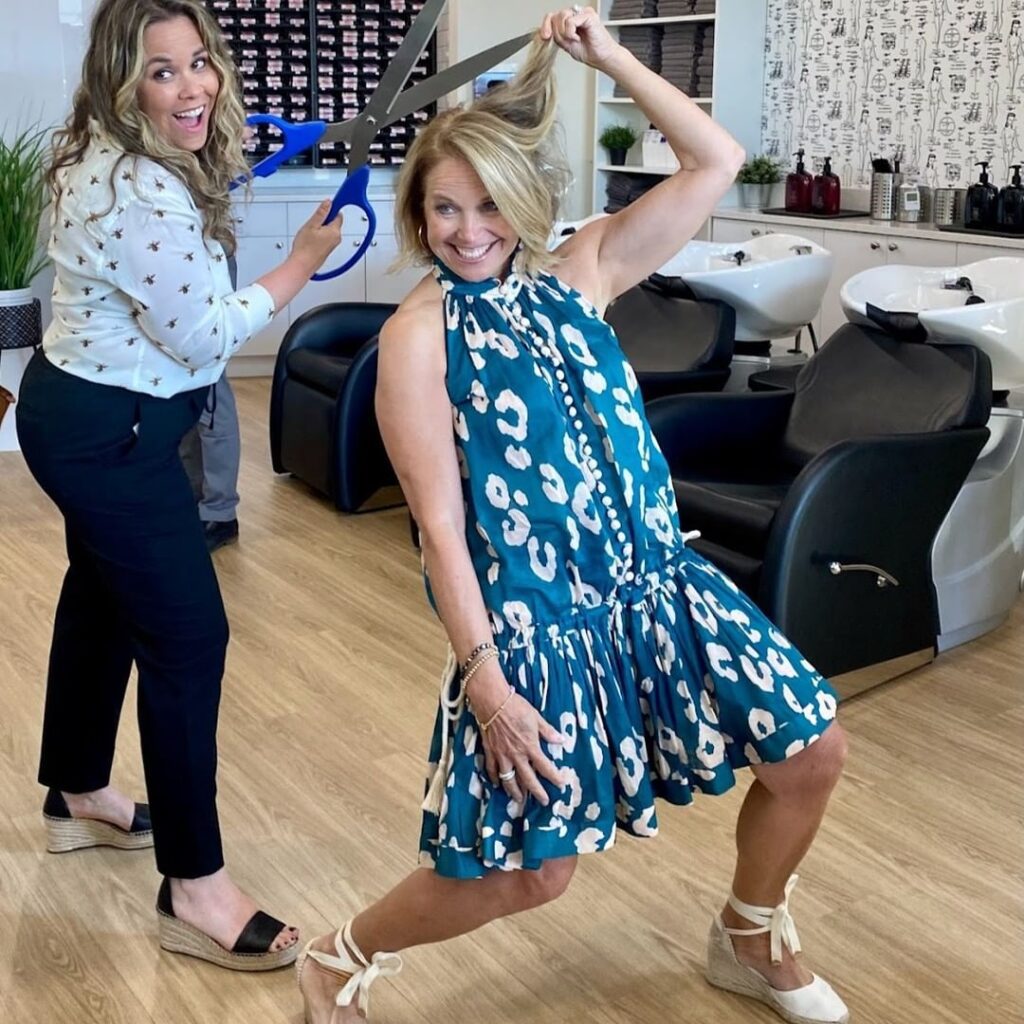 Celebrity hair stylist and owner Dana Fiore was joined by their star client, Katie Couric, and the Hair House staff and local dignitaries to officially celebrate. Whether it is a mani, pedi, cut, color or style, our newest business is ready to help you look and feel your best!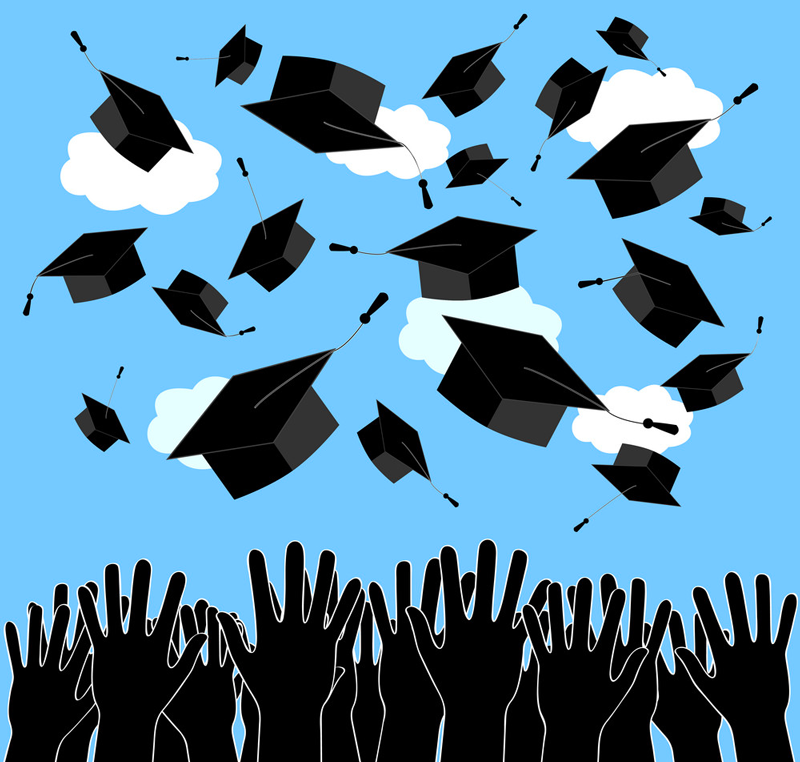 Higher Learning Nearby and So Many Graduations
New Rochelle is proud to be the home of two exceptional institutions of higher learning – Downtown's Monroe College and, of course, Iona College across town. There are many others in neighboring towns, including Mercy College, Westchester Community College, The College of Westchester, SUNY at Purchase, Manhattanville, and Pace. We also have two Ivy League schools an easy commute away. You can be at Columbia in 30 minutes and Yale in a bit over an hour.
At this time of the year, each of the campuses is busy with graduation. Here in Downtown, Monroe will be hosting two ceremonies at Radio City Music Hall on June 15th. It will their first in-person Commencement since 2019. The College invited members of the Class of 2020 and Class of 2021 to join them for a "Commencement Do-Over" so that they, too, can take that magical walk across the stage.
Whether your grad is in kindergarten or college, be sure to celebrate at one of our wonderful Downtown restaurants.
Elevated Stories:
New Buildings Coming Along
We are certainly seeing some impressive progress Downtown as the skyline continues to change with more beautiful new apartment buildings. Take a walk around the neighborhood and you will see that construction at 2 Clinton Place moves forward at a quick pace and that 64 Centre Ave has "topped off" already. Also, 3THIRTY3 is ready to lease along with The Stella, The Huguenot, and The Modera. We have plenty of new residents in town who are loving the City and their incredible views.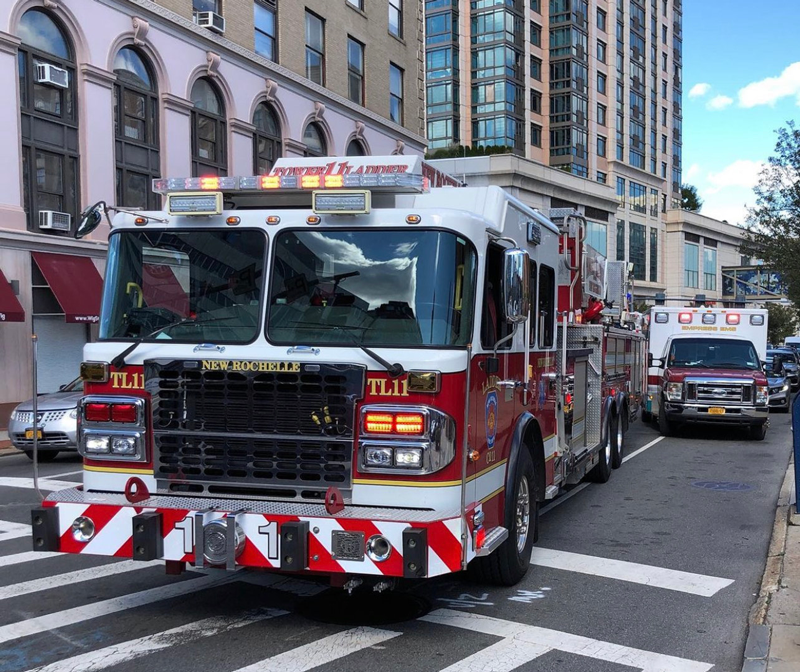 Vertical Safety:
NRFD's Downtown Firefighters Rise to the Occasion
With Downtown development reaching new heights – literally – the City's Fire Department has been stretching its capabilities skyward, too.
For the 50 firefighters and officers assigned to Station No. 1 here in New Rochelle Downtown, that means preparing for emergencies in our new apartment buildings, some of which go up as high as 40 stories.
Station No. 1's current home located at 45 Harrison St. opened in 1966 and was originally constructed as a bomb shelter as well as a firehouse. It is New Rochelle's largest and busiest firehouse with anywhere between 2000-3500 calls a year. Actually, at that pace, they are one of the busiest firefighting companies in the entire country, according to NRFD Chief Andy Sandor.
The firehouse is home to an impressive array of equipment, including a fire engine, a tower ladder truck, a pair of rescue vehicles, a foam attack unit for hazmat responses, ambulances, and other rescue vehicles. The department also has added pumper trucks that have the ability to send water to the highest floors of our new taller structures.
The Firefighting companies located in Downtown's Station #1 are known collectively as Engine Company 21. They are joined by Rescue 4, and 54 as well as the Ambulance staff and Mechanic Shop. There are always between 9 and 11 first-responders living there.
With more development here in Downtown, our New RochelleFire Department members have been successfully undergoing extra training for high-angle rope rescues and for scenarios that entail quick-spreading smoke.
The Department has been testing drones as their latest firefighting technology to improve information-capture and coverage that more quickly They first deployed the New Rochelle Police Department's drone when they investigated the aftermath of the City's Wildcliff Mansion blaze in 2018. They successfully used the Pelham Fire Department's a drone more recently during the five-alarm Hamilton Avenue fire near City Hall in March. While the NRFD does not have its own drone at this time, the Department is considering purchasing this technology for use in high-rise situations because of its proven value, Sandor said.
As the city's population and real estate expands, a staffing study will add personnel, said Chief Sandor.
"In the Fire Department, we always get challenges, and we 'do what we gotta do' to meet them and make sure our citizens are always protected."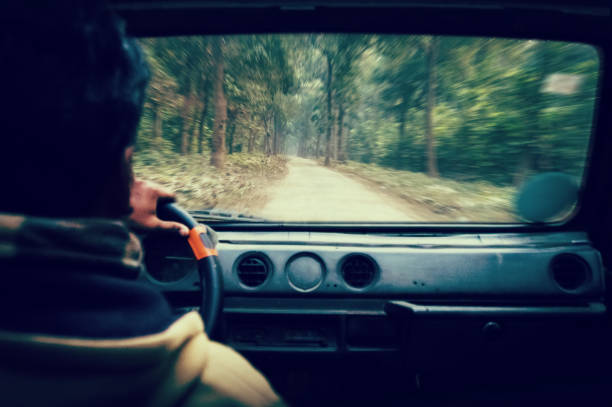 Higher Mileage:
Get Out on the Open Road
Many people originally thinking about a staycation this summer are now rethinking those plans as the New York State gas tax moratorium that just went into place makes road trips a more attractive option.
In New Rochelle Downtown, you can "auto"-matically find all you need to get ready for that drive. There are businesses and services that will help you do everything from refreshing your driving skills to getting your car tuned up to getting a better deal on your insurance policy.
At Downtown's two driving schools, people across Westchester County and beyond are learning how to drive. According to N.V. New Millennium Driving School at 577 Main St, the one thing that new drivers seem to always need a little more practice with is parallel parking.
At 21 Anderson St, Heritage Auto School helps students preparing to drive cars and trucks. You can often spot a few of their trucks Downtown on Le Count Place and elsewhere as students practice their big-wheeled moves.
Whether it is a permit, behind the wheel training or practice, walk in to our auto schools and drive out with the open road ahead of you.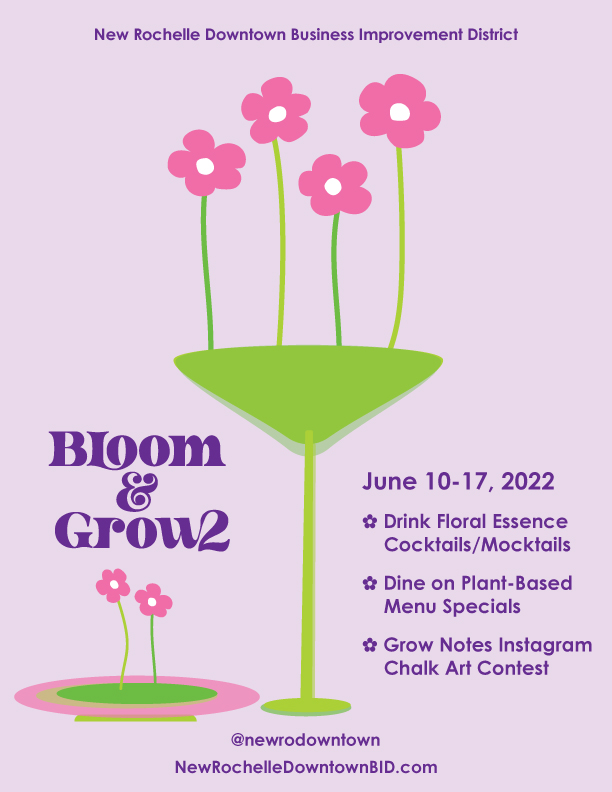 What's Up?
New Businesses, Fun Activities and More Ahead
Great news if you love Greek food! We have a new dining spot on Division St. coming later this year. Watch this space for more information soon!
Next, we will have some more new businesses cutting their grand opening ribbons: Arepe Mania is opening their second New Rochelle eatery, this one on Division St. KRAVE will be debuting their much awaited take-out shop next month on the corner of Main St and S. Division near their main dining room. El Michoacana has debuted and opened their doors on their larger space at 615 Main St. and at New Roc City Hallal Brothers is just a few falafels away from opening this summer.
This season, everything is Blooming and Growing here in New Ro Downtown. From Friday June 10-Friday June 17, our New Ro Downtown restaurants will be offering Bloom&Grow2, with unique Floral Essence Cocktails and delicious home-grown Plant-based Menu Specials. As part of this delightful dining promotion, you'll get to watch for our inspirational chalk art pop-ups on local sidewalks. We call them "Grow Notes". Find one, snap a photo, post it on Instagram and enter to win a $100 Downtown Dining gift card. Be on the lookout! The first ones will pop up somewhere in Downtown on the mornings of June 10 and 15 (weather permitting).
Look for wonderful creativity, culture, music and celebration during Juneteenth all month here in New Rochelle and in Downtown during the weekend of June 17-20. The Lincoln Park Conservancy is joining with the New Rochelle Public Library, theNRBID, and other sponsors for festivities at Downtown's Main Library that include amazing music and programs and exhibits.
For those who like plan ahead, mark your calendars for Summer Thursdays in July and August when we will have great weekly family entertainment – and the option to order delectable specially-curated Pic*Nics from our best restaurants. This partnership from the NRBID and the NRPL is a new signature program called PIC*NIC Party in the Park and it will be in Library Green's Ruby Dee Park.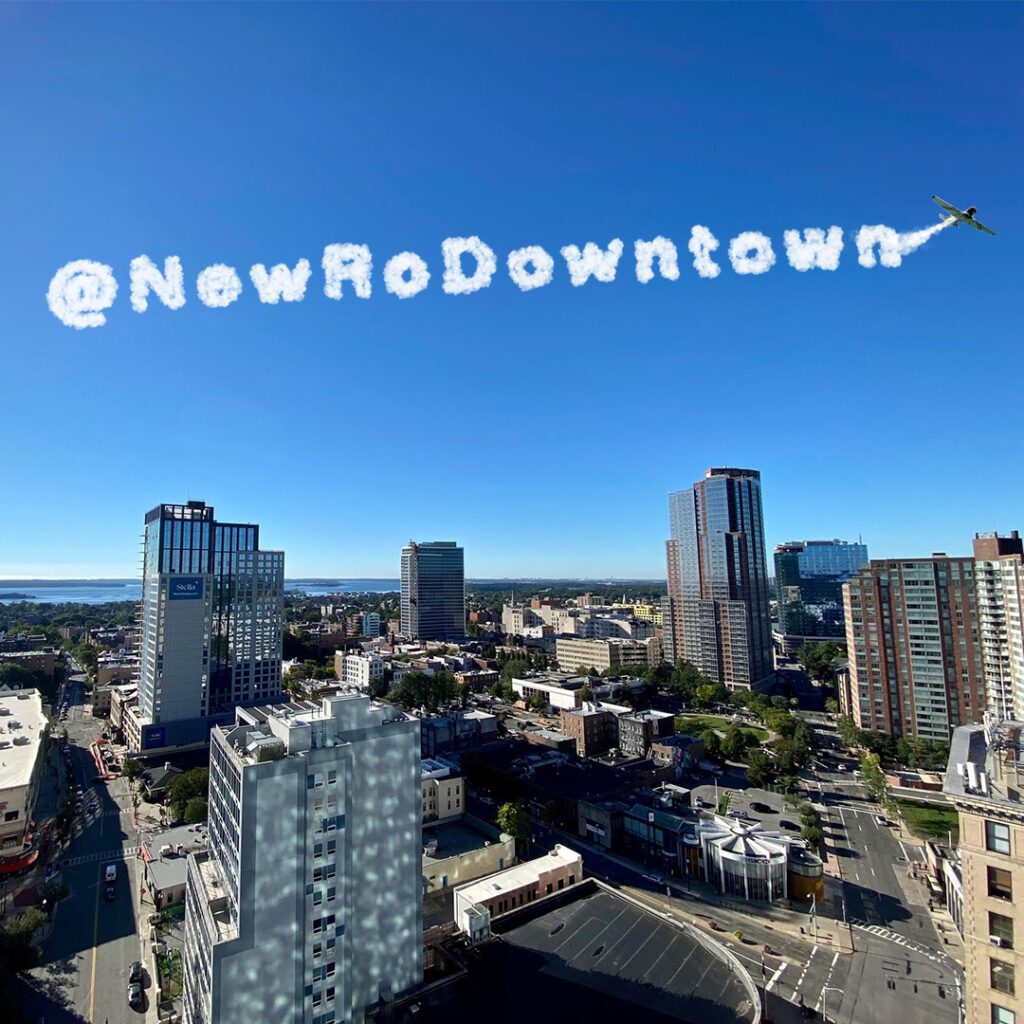 With our recent social media name change from @nrbid to @newrodowntown, we have been able to reach more of you with our news and updates. Make sure you like and follow @NewRoDowntown on Instagram and Facebook for all of our latest info.
We're excited about all that is here to elevate your life in New Ro Downtown.
Come see and experience everything that's happening here!

Karel

Karel Littman,
Executive Director
New Rochelle Business Improvement District (NRBID)
newrochelledowntownbid@gmail.com
PS FOLLOW us on Instagram (@newrodowntown) and LIKE us on Facebook (@newrodowntown).