December 16, 2020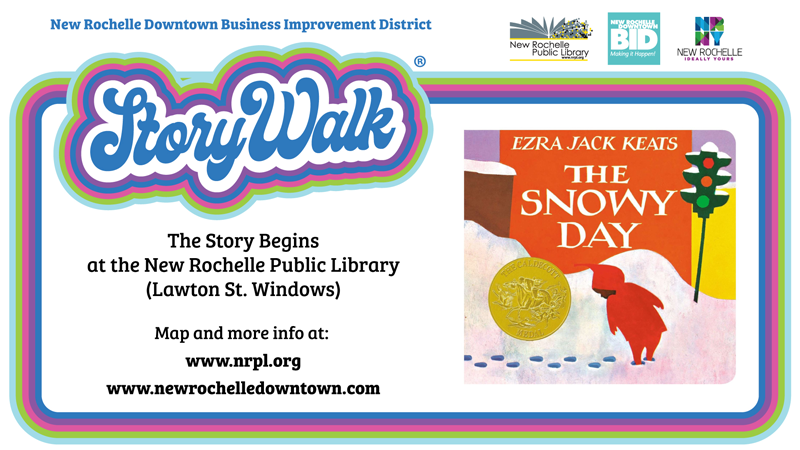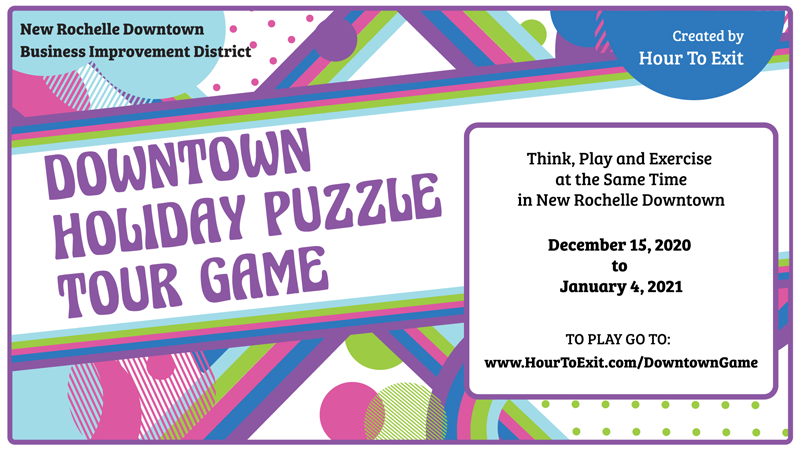 Library Team Selects A Snowy Day for First Downtown StoryWalk®
District's Escape Game Company Developed Fun Game Sure to Entertain

The New Rochelle Downtown BID is excited to debut two free Winter Walks through the District this holiday season.
Working in partnership with the New Rochelle Public Library, City of New Rochelle, and the Hour to Exist in-District escape game company located at 466 Main St, the NRBID has added another level of fun and entertainment to your holiday shopping and dining activities.
A number of Downtown merchant windows have been transformed into pages from the classic book The Snowy Day by Ezra Jack Keats. The locations of these 14 windows are detailed in the StoryWalk Map, which shows the route of the walk. It begins at the NRPL Lawton Street windows and moves onto Main Street.
An additional 10 merchant windows are not on a map but are where players will find the secret clues for the Downtown Holiday Puzzle Tour Game.
This mini adventure is a hybrid puzzle, hunt, and escape game developed with the NRBID by Brittney Coleman and Duane Sequira, co-owners of Hour to Exist. Players need to sign up for the game in advance. Once they do, clues to the first location will be sent.
All are welcome to participate in the Downtown Holiday Puzzle Tour Game. Play alone or with a group!
"The windows bring an added sense of magic and wonder to downtown this holiday season, and I thank our NRBID merchants for donating their windows," said NRBID Chairman Marc Jerome. "I invite everyone to come downtown to see the windows and enjoy all that our Downtown restaurants and merchants have to offer as you prepare for the holidays."
For links, click here for the New Rochelle Public Library, City of New Rochelle, Hour to Exit and New Rochelle Downtown sites.
---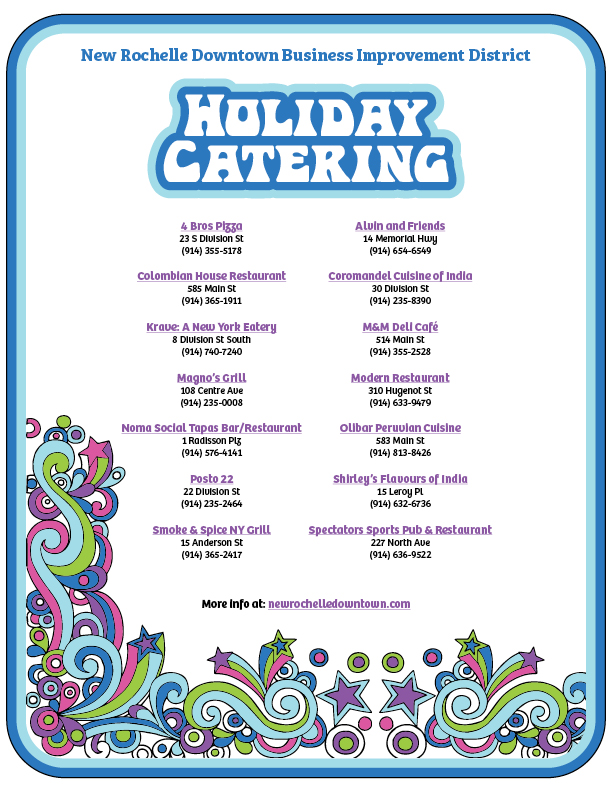 Many Merchants are Catering for the Holidays.
Let Them Help You Celebrate.
In New Rochelle Downtown, we have a distinctive international palate here. Many of our restaurants are skilled in providing their authentic flavors for groups and events.
This holiday season, leave the cooking to someone else. Why not order in? You'll get great deals along with great food.
Click here to see all the possible Downtown Holiday Meals you can enjoy.
---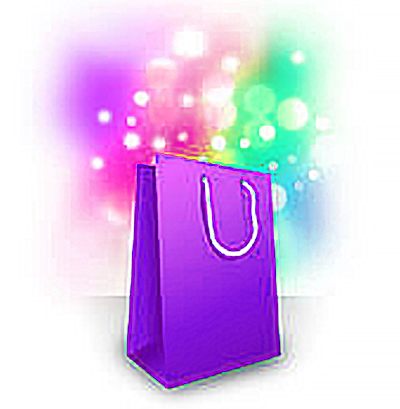 Looking for a Special Gift this Holiday Season?
Our Downtown Merchants Have Some Wonderful Gift Ideas
Our Downtown restaurant owners and merchants have been truly thinking outside the box this year. They've been creating new products and finding fun items for you. Here are a some suggestions that might be just what you're looking for:
Our merchants have some amazing products in their stores and on their shelves. Come down and check them out!
Pssst… we just heard that Consignment on Main's 2020-themed Jewelry and hats have sold out.
---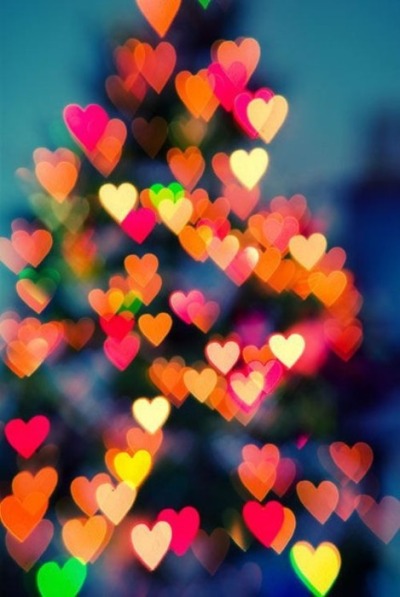 Vote for Your Favorite Downtown Places in Westchester Magazine's Annual Contest
The presidential election may be over, but your votes are still needed!
Cast your votes now in Westchester Magazine's annual survey of the Best of Westchester. Be sure to include your favorite Downtown Merchants. Click here to register your NRBID Faves.
---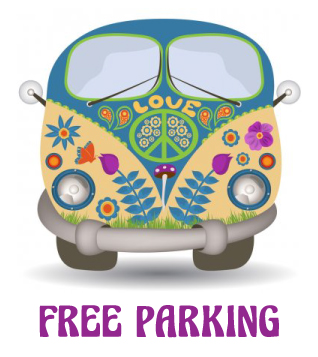 Enjoy the City's Annual Gift Of Free Parking This Month
As a reminder, parking is free downtown for the rest of the month! Drive down and park free for two hours at a time.
Come see what magical meals, gifts, and necessities our Downtown businesses have for you.
You will be able to park in the following lots:
Library Lot between Lawton St and Memorial Hwy
Library South Lot near Lawton St
Prospect Street Lot between S. Division and Maple
---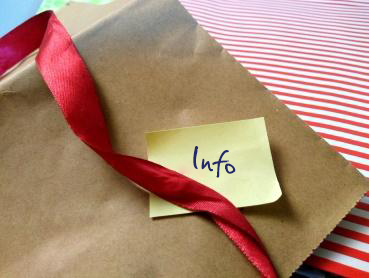 Helpful Information for Business Owners
Increasing Visibility
New Rochelle United: Create a special offer and gift cards through this innovative website. Increase your visibility with these offerings in time for the holidays.Click here for more info.
Westchester County Social Media Video Campaign: Want to get extra visibility on Facebook and Instagram accounts–beyond your own? Let the County promote your business on theirs this holiday season. Go get your smartphone or video camera and start making your sell piece. Send them 60 seconds of your best holiday offerings as soon as possible because not all videos will be selected. It doesn't have to be so fancy, just good video info. Have questions or to submit your mini-promo directly, click here.
Find Funding
Are you owner of a Black-owned business in the beverage alcohol service, sales, and hospitality industries? Backing the B.A.R. (Black-Owned Accounts & Retailers) is a NAACP initiative that is awarding over $350,000 in acceleration grants, education, support, and entrepreneurship solutions for Black-owned bars, restaurants, nightclubs, lounges, liquor stores, and small businesses in the process of applying for a liquor license. Apply by December 24 for a chance to receive a $10,000 grant.
WomensNet gives away at least $10,000 every month in Amber Grant money to women entrepreneurs. They've also expanded their grant-giving to include an additional year-end grant of $25,000 to one of the winners from the previous 12 months. Click here to apply by December 31 for an Amber Grant.
Paycheck Protection Program (PPP) recipients will now be eligible to receive low-interest loans through the New York Forward Loan Fund, according to a recent New York State Empire State Development (ESD) announcement. A conditional change will allow the Fund's network of lenders and financial institutions to have greater flexibility when providing working capital to small businesses that need help covering expenses associated with reopening. Click here for the application and more information.
Want to sell on EBay? There is free online coaching that is self-paced, no cost and available any time at EBay Seller School.
Pivot to Online Business
Empire State Digital just announced a new initiative that will help New York State-based small businesses grow their online presence. It is a first-in-the-nation program with leading global e-commerce names including Shopify, Square, Clearbanc, and Etsy. Program partners will be offering specialized solutions such as education, free resources, marketing support, and discounted pricing for New York's small businesses. The Empire State Digital program's website includes additional information.
---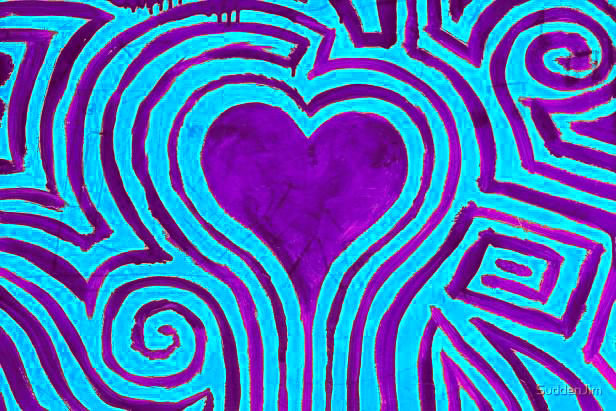 We are grateful for such wonderful partners here in New Rochelle Downtown—our Mayor, NRBID Board, New Rochelle City Team, the New Rochelle Public Library Team, Council and Legislators, Chamber—and our Merchants and Restaurant Owners. A special word of thanks to the owners of Hour to Exit and the 24 additional owners who have agreed to share their windows for the Downtown Holiday Puzzle Tour and StoryWalk®.
This year we particularly appreciate the dedication and creativity of our Downtown business and property owners and the kindness of our Community.
Perhaps most of all, we salute our friends who come here to shop and dine—and walk. We hope that you will come see the magic that is happening here.
Here's to safety in the storm and good health through the holidays and beyond.
Karel
Karel Littman
Executive Director
New Rochelle Business Improvement District (NRBID)

Like us on Facebook (@nrbid) Follow us on Instagram (@nrbid)! Make sure you share our posts and tag us (#nrbid) so we can share yours.