Several downtown businesses and artists are participating in this weekend's NRCA ArtsFest.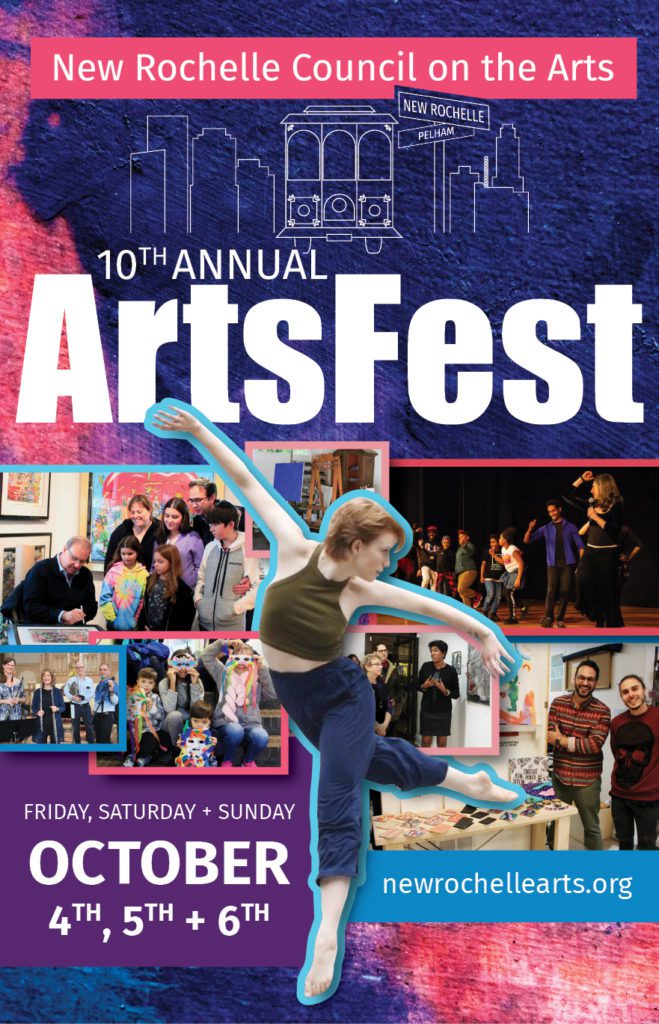 ArtsFest kicks off Friday Oct. 4th with an Oktoberfest Gallery Hop. Stop by Diner Brew, Enchanted Flowers, Flowers by Sutton, Lord and Andra, and Handcrafted Catering for a free sample of local brew.
Then on Saturday hop on the trolley for a culture tour, experience the New Rochelle Walk of Fame, and at the New Rochelle Farmers Market enjoy the Songcatchers, rock painting and sounds by Milton. Lord and Andra is exhibiting "Big Action in Small Spaces." Alvin & Friends will have drink specials and live music.

Come back on Sunday for the ArtsFest Acoustic Music Festival
12 noon – 5 pm
An afternoon of live music featuring local musicians playing "unplugged". Free. Lineup includes the following Sound Shore singer-songwriters performing acoustic sets for your listening pleasure:
Jon Cobert is a successful composer and producer who has recorded and performed with artists including John Lennon, Tom Chapin, Loudon Wainwright III, John Denver and Laura Branigan. His most recent album is He Had A Hat.
Kelly Flint plays postmodern folk with a tinge of Americana. Formerly the vocalist for NYC-based cult fave Dave's True Story, Kelly has spread her solo wings with her debut album Drive All Night.
Miles East is singer-songwriter known as one of NYC's premiere session musicians, drummers and multiinstrumentalists; his solo debut is Ghosts of Hope.
Bruce Carroll is a singer songwriter – and former owner of Larchmont's late, lamented Watercolor Café – who recently released the EP Finding You as a follow up to the critically acclaimed album Ruckus and Romance.
Monica Uhm calls herself a "Philoso-folkster" who's recent release Cowboys&Aliens with her band Trio Of Awesuhm has been aired on over 100 stations in over 20 countries. She can be heard playing at Alvin & Friends as well as venues in New York City.
Dan Zlotnick's music has a contemporary Americana flair, reflecting his love of classic rock and blues, and can be seen all across Westchester enchanting audiences with his live shows. His most recent album is Bumpers.
There are too many great things happening downtown this weekend. Download the ArtsFest brochure for more info!