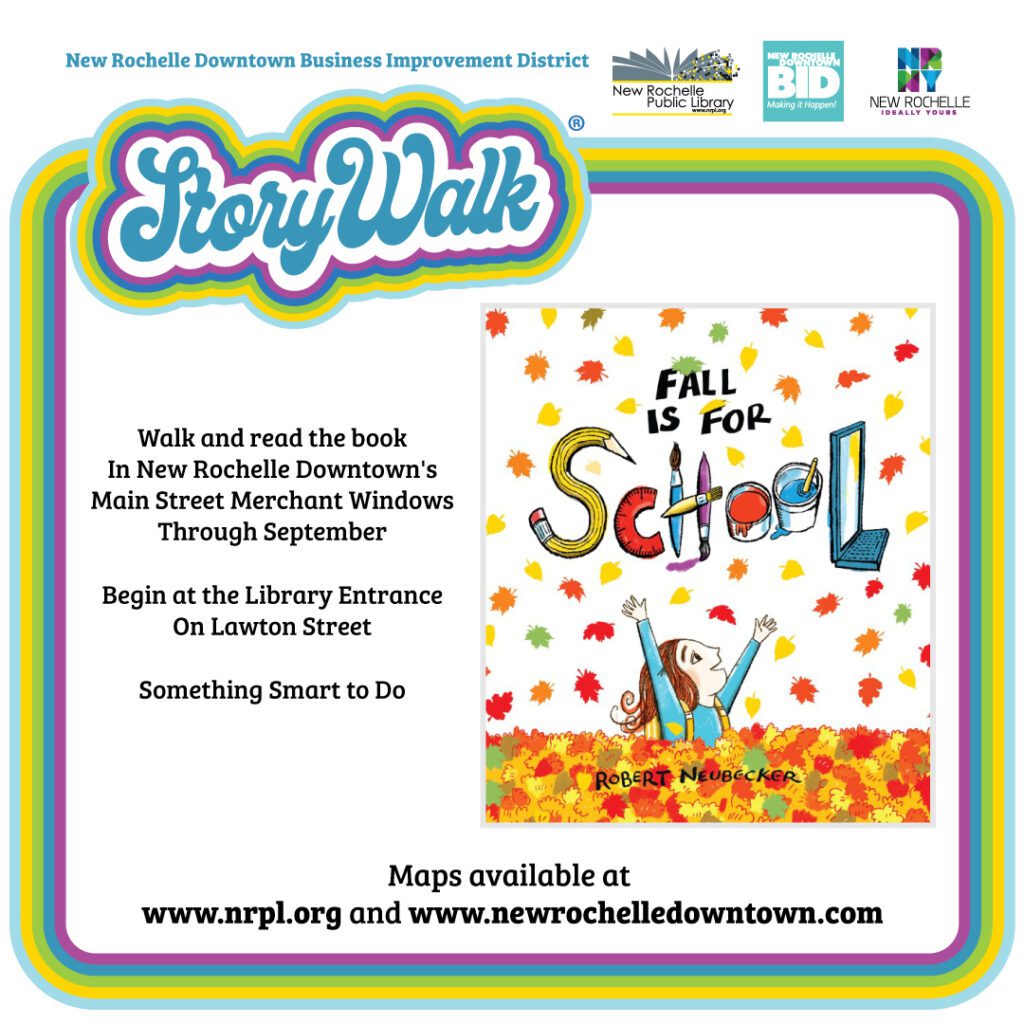 Back-to-School STORYWALK® begins Friday
Downtown Windows Bring Children's Book to Life
The new school year is just around the corner, and our Downtown Merchants are getting into the spirit with the latest STORYWALK®.
Once again, the NRPL and NRBID have teamed up with 15+ local shops and establishments to use their windows to present pages from a children's book. Children and their families will be given a map at the start to find the next page in the story. It's a great way to get some fresh air, exercise, and a great story at the same time!
We hosted the first STORYWALK® last December. The national program is the brainchild of Anne Ferguson of Montpelier, Vermont, who developed the creative storytelling idea with the Kellogg-Hubbard Library.
Robert Simic, Head Children's Librarian at the NRPL, selected the featured story, "Fall is For School" by Robert Neubecker.
"This book is a wonderful and beautifully illustrated story that families and children of all ages will enjoy," he said.
The 15+ participating Main Street shops will post their story page(s) in both English and Spanish. STORYWALK® will be ready for viewing starting this Friday. The story will begin at the Library's Lawton Street Entrance. A map showing the locations of the participating windows will be available there and online..

"New Rochelle Public Library is thrilled to be working with the Downtown BID and the merchants during this special back-to-school season," said Tom Geoffino, Director of the New Rochelle Public Library.
He added: "We are so pleased that families and children will be able to read at their own pace and exercise outdoors at the same time. Once participants have had a chance to read the story, shop, and dine, we hope they will stop by the Library to explore and borrow from our wonderful collection of books, DVDs, and CDs," Geoffino added.
"We can't wait to have you be part of the magic that is happening here in New Rochelle Downtown when you come throughout September for this special STORYWALK®activity," said Karel Littman, Executive Director, New Rochelle Downtown Business Improvement District (NRBID).
"While you're here, be sure to grab a bite to eat and do some back-to-school shopping at the same time," she added.
Click here for the map and list of participating and Main St. businesses.
---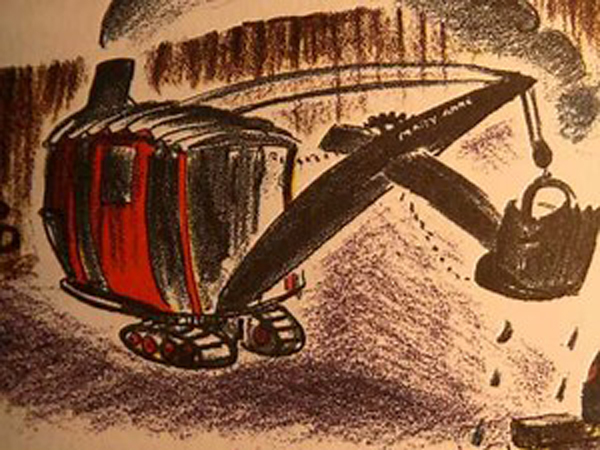 The "Main" Event:
Water, Sewer Upgrades Are Underway
When the City of New Rochelle built its first water and sewer system in the 1800s, it did it with steam shovels similar to the equipment described in the classic children's book, "Mike Mulligan and His Steam Shovel". The pipes used were no larger than eight inches in diameter, which was more than sufficient to handle the needs of the City's 2,900 residents.
Now a thriving, vibrant city that more than 80,000 people call home, New Rochelle is giving the old pipes a much-needed upgrade. Fortunately, they aren't relying on old-fashioned steam shovels for the project this time.
Drive or walk along the Downtown neighborhood, and you'll see plenty of heavy equipment in place. In addition to the big tractors opening up the ground for the new piping, there are giant vacuum trucks to remove the debris and concrete trucks that turn as the mixture runs in to close up the spaces. There are also plenty of big trucks moving tons of metal plates around to close the opened areas when the crews have finished for the day.
"Infrastructure upgrades are decades overdue and we are pleased to be able to be doing them now," said James Moran, Commissioner of Public Works. "Downtown is where we have begun and our progress is on track for our overall plan."
The old water and sewer mains are being replaced by larger pipes that are up to 20" in diameter. The City and its contractors are doing the sewer system replacements, while Suez leads with the water system upgrades.
As many are seeing, this work has been taking place over the past year on Main Street at both ends of the Downtown District.
It's been moving at a quick pace. The water main along Main St. has already been replaced by Suez from Lawton St. to Maple St.; they are now working to connect the pipe extensions that go into each building.
Similar work is underway on the other end of Main St. from Echo Ave. to North Ave, and along North Ave itself. The sewer main replacement has started there and near Huguenot by the triangle.
Come Downtown and watch for a while. You will see a fascinating show.
The City's Administrator, New Rochelle Police Department, DPW, and Traffic Engineering and Planning's Parking Department are working hard to keep the project moving forward with the least amount of inconvenience to residents and visitors. It's a well-coordinated dance, for sure!
For a map of the sewer renovation process, click here.
For those who want to stay in the know about our roads and bridges, click here for the City's updates
And if you want to go down memory lane with Mike Mulligan click here.
---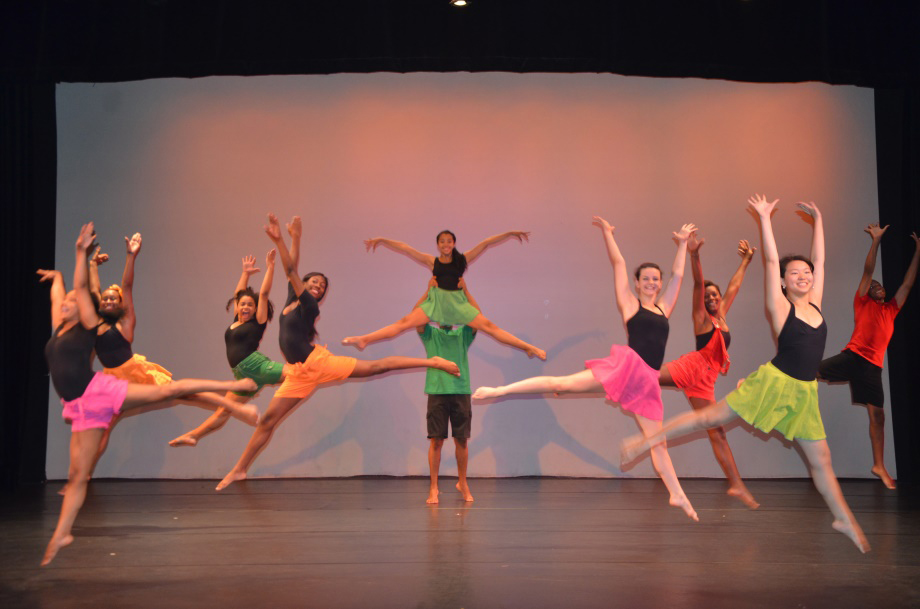 When we say Move Here, We Really Mean Move Here!
Downtown's Studios Feature Many Styles of Dance
"Dance on Down to Downtown" really resonates here, given Downtown's three very active dance studios.
Here, everyone and anyone can learn to move in a wide range of styles: Afro Fusion, African Dance, Afro Caribbean, Ballet, Ballroom, Tap, Jazz, Hip Hop, Modern, Prayer Dance, and Theatre, just to name a few.
We are so happy to report that all of our schools have creatively weathered the pandemic with a combination of virtual and in-person classes. They will continue with this mix of classes to help everyone stay comfortable and healthy.
Registration is now taking place online for the new season. Click below, register and start moving again!
---
Monroe Culinary Students Earn Second Place at National Competition
Congratulations to the Culinary Competition Team at Monroe College!
If you've ever had the pleasure of a wonderful meal at The Dining Lab, the student-run restaurant on Main Street, you know that Monroe's culinary students clearly know their way around a kitchen.
Five students and an apprentice serving on its Culinary Competition Team recently traveled to Orlando, Florida to compete for the national student title. Accompanied by Team Coach Frank Costantino, Dean of Monroe's School of Hospitality Management and the Culinary Institute of New York, and Assistant Coach Chef Eric Pellizzari, a faculty member in the culinary program, they came back winning silver, a remarkable accomplishment!
Their impressive menu, which they spent many long practice sessions perfecting:
Striped Bass, Chioggia Beet "Carpaccio", Truffle Vinaigrette, Crab and Goat Cheese Tortello
Sweet Corn, Heirloom Tomatoes, Avocado Marble, Warm Sweet Corn and Parmigiano Custard, Creamy Corn Vinaigrette, Pickled Shallots, Friseè and Micro Greens
Cornish Hen Trio: Citrus-brined Roasted Breast, Dried Peach Mostarda, Stuffed Lollipop "Everything Bagel", Hen, Arugula and Potato Hash, Summer Vegetable Mèlange, Maple Gastrique
And for dessert, an ode to strawberry: Rosemary Almond Cake, Valrhona Inspiration Fraise Creamy Ganache, Compressed Strawberries, Strawberry Coulis, Strawberry Semi-freddo, Feulletine Granola crunch, Sweet Herb Gel
---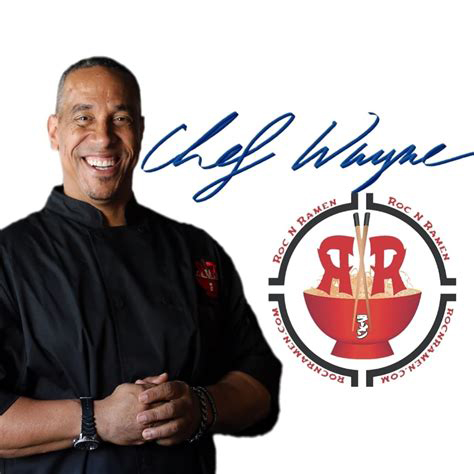 Ramen Roadshow: Chef Wayne Goes National
Speaking of culinary success, we also send our happiest congratulations to Chef Wayne Carrington, the successful founder of Downtown's Roc N Ramen at 19 Anderson St.
The former New York City Police Officer and Monroe College graduate is getting ready to open a new restaurant franchise this coming Labor Day called Vibe N Slurp.
The first location will open in Toms River, New Jersey, a bustling town down by the Jersey shore. Chef Wayne has plans for 10 more locations nationwide, including in Texas, Alabama, Louisiana, and Florida.
Good news: Roc N Ramen, which expanded into the Bronx and Dubai last year, remains happily in business. Chef Wayne has a great team in place to keep the delicious meals – and the sound of contented noodle-slurpin' – around while Chef Wayne gets his new franchise off the ground. Good luck!
---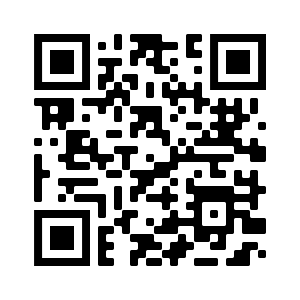 Downtown's Merchants Stay Current with QR Codes
Gives Instant Access to Info
QR Codes – the black and white box of digital squiggles you scan with your phone – are everywhere these days.
They proved especially helpful during the pandemic as a way for restaurants to easily share menus without the cost or health concerns of sharing paper copies among strangers.
Applebee's, Colombian House and Buffalo Wild Wings, are among the eateries using them, as is Diner Brew.
Other local businesses are using these "quick response" tools (yes, that's what the Q and R in "QR" code stand for) to share information in real time. QR codes are used in Hour to Exit Escape Game's hunts, as well as to see what's playing at Regal Movie Theatre, and to access product information at CVS.
The code, which was invented in 1994 by a Japanese car company to track vehicles on the assembly line, works just like a barcode. However, instead of telling you the price of something, it relays some other piece of information to you, usually by linking you to a webpage.
When Apple incorporated the technology into iPhone cameras in 2017, adoption of the technology grew rapidly. When the pandemic hit, it became a smart way for businesses to provide information safely and easily. According to the National Restaurant Association, half of all full service restaurants in America now regularly rely on QR codes for patron marketing and materials.

Want to see how they work? Open the camera on your smart phone and aim it at the one above. You may need to move in a bit closer (or further away) until it registers. See what comes up!
---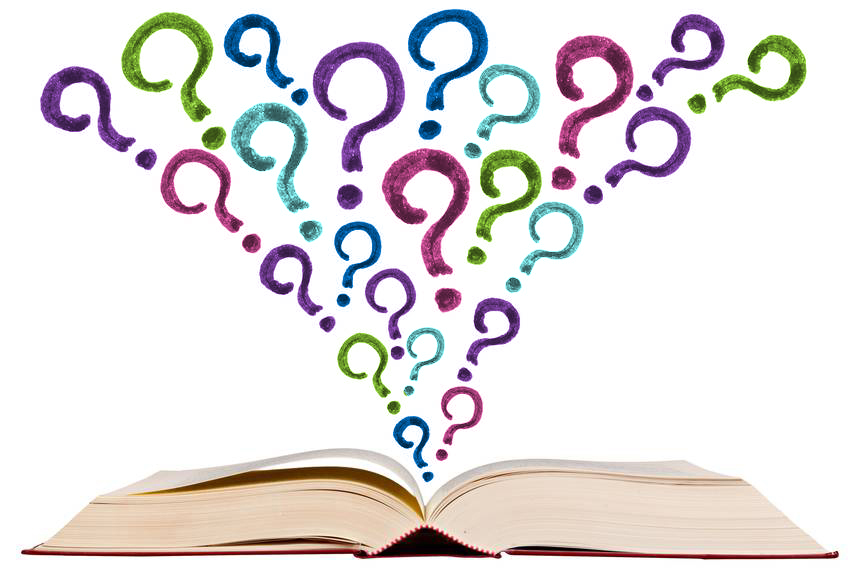 What Do You Want for the Library of the Future?
The New Rochelle Public Library is asking local community members to share their thoughts and recommendations for future improvements.
Please take this five-minute survey to provide feedback on programming, facilities, and priorities.
Hard copies of the survey are available at the Main Branch of the Library or at the Huguenot Children's Library.
The NRPL appreciates your help and ideas!
---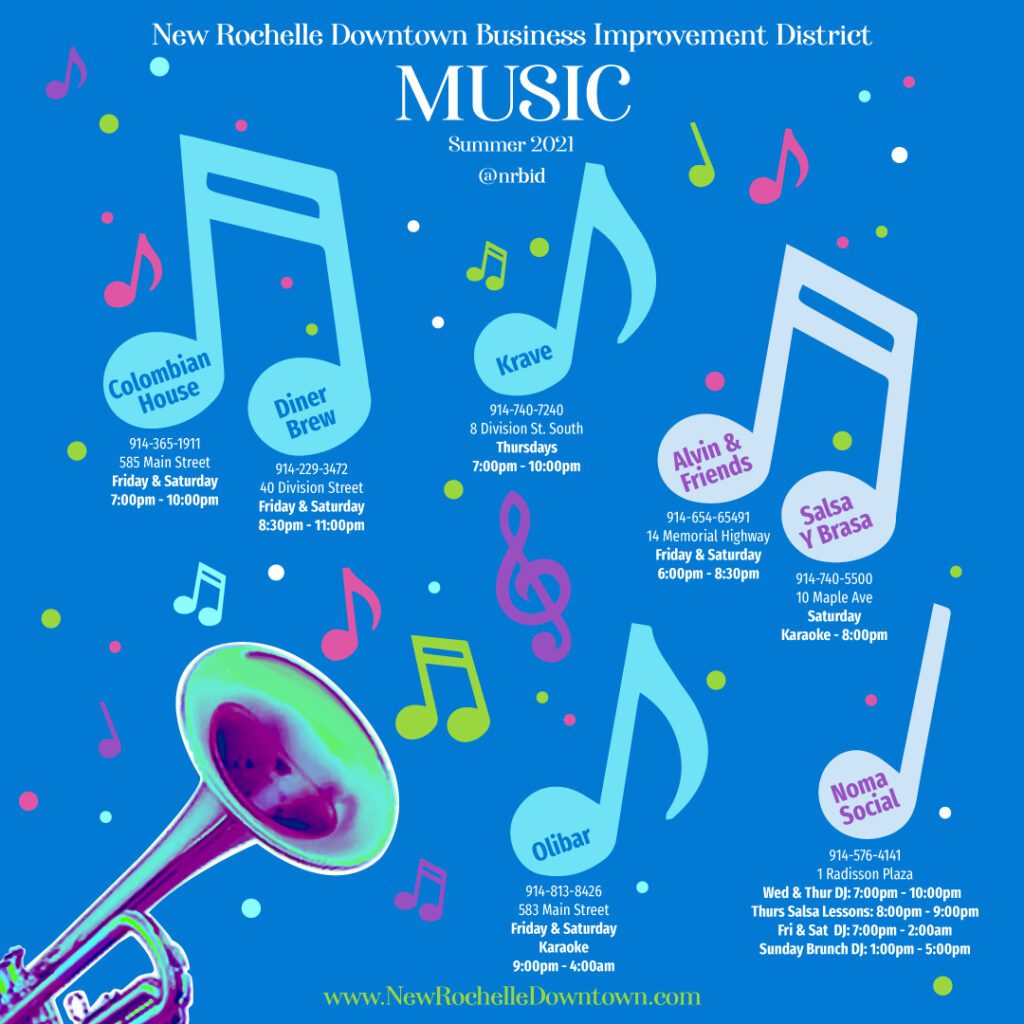 Summer Music – and Valet Parking – Continue!
Come Dine, Listen, and Dance with Us Downtown
As summer gently winds down, treat yourself to some good food, fun music, and easy parking with the City's new valet parking area at the Library South Parking lot.
For the same pricing as the City's regular parking fees, you can drop your car at the valet and begin your evening without the hassle of looking for a parking spot. The service is available Thursdays through Sundays.
Music during the week and on weekends is still happening. Check it out!
---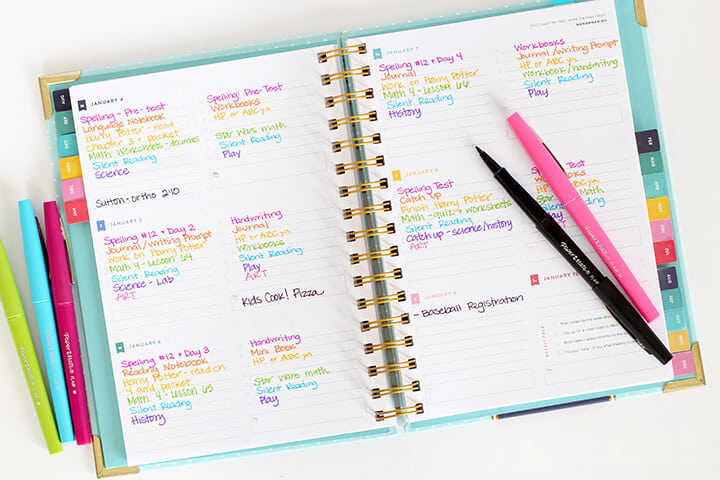 Planner, Smartphone, Calendar – However You "Save the Date", Downtown Has Plenty Events to Fill Your Schedule
As always, there are plenty of exciting activities and events coming up later this year in New Rochelle.
Here are a few items in September and October worth noting:
Mark your dates – and be sure to carve out a little "me time" as well.
Need some ideas? Why not schedule an appointment for an acupuncture session at Acupuncture New Rochelle at 421 Huguenot St (Suite 31) or a workout at Planet Fitness on Le Count Place.
Looking for something a bit more relaxing? How about a fun movie at Regal Cinemas, some ice cream at YUM, at 8 Anderson St, swirls of frozen yogurt at Pinkberry or something tastyfrom our70+ places on our list?
You'll be glad you did.

Help triple our New Rochelle Downtown social media following by telling everyone you know to FOLLOW us on Instagram (@nrbid) and LIKE us on Facebook (@nrbid).
See you around Downtown!
Karel

Karel Littman,
Executive Director
New Rochelle Business Improvement District (NRBID)
newrochelledowntownbid@gmail.com