October 29, 2021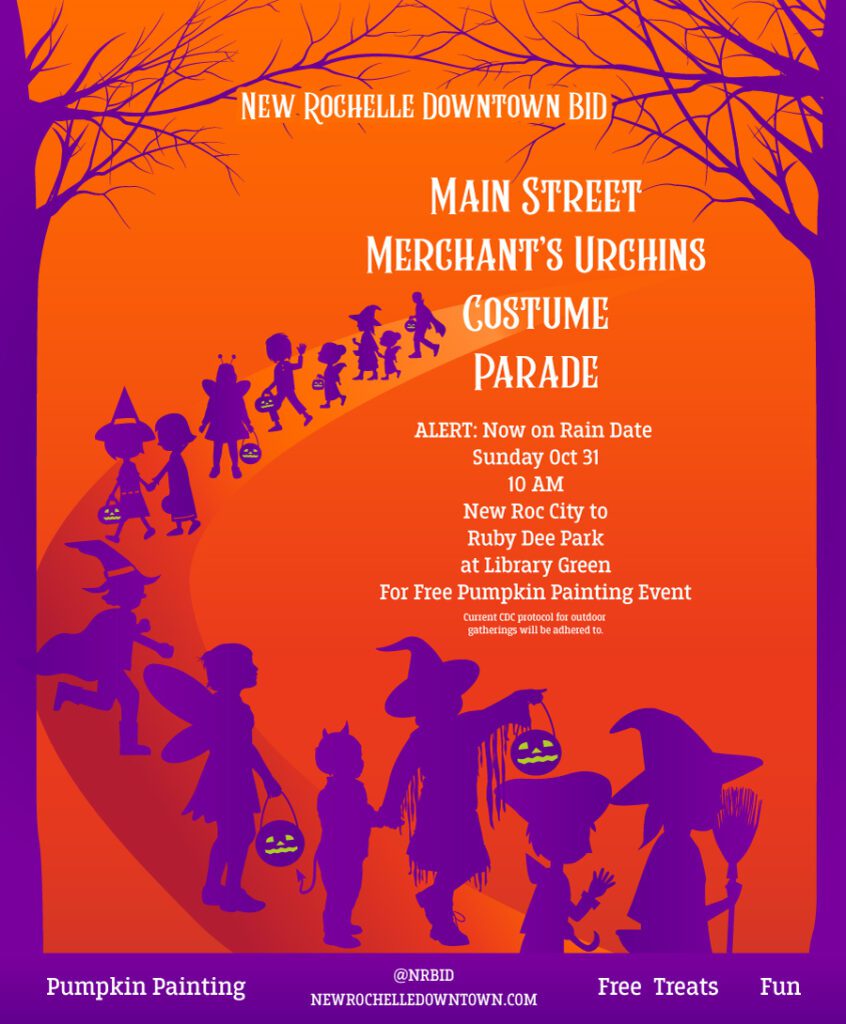 It's Halloween Parade Time!
Costumed Children and Pets Set to Take Over Downtown
ALERT: Parade is moved to Sunday Oct 31 at 10am at New Roc City due to rain tomorrow. Tell your friends and family! See you then!

It's been a super busy and fun month Downtown! From ArtsFest to Jazz concerts and more, this last weekend of October is sure to equally excite and inspire.
When you're doing your daily walk Downtown, be sure to watch for mini super heroes, young witches, and tiny minions as local children come out for their annual costume parade from New Roc City to Library Green's Ruby Dee Park.
It's all part of the NRBID's Main Street Merchant's Urchins Costume Parade taking place this Saturday (October 30) SUNDAY OCTOBER 31 at 10:00 am, thanks to our "parade partners" the New Rochelle Parks Department, New Rochelle Public Library, and the City of New Rochelle. The rain date will now be Sunday 10:00am with lineup at 9:45am.
When the Parade's costumed characters arrive at Ruby Dee Park, children who have participated in the parade will be able to paint a mini pumpkin and then get some (shh!) surprise treats in bags put together by our New Rochelle Parks Department team. There will also be a coupon packet from the New Rochelle Downtown Business Improvement District will include more surprises (shh!) like $5 off at the Curtain Shop at 541Main St and Jay's Boutique Children's Clothing store at 490Main St, free toppings or upgrades at New Roc City's Pinkberry frozen yogurt shop, a great family meal special at New Golden Wok at 234 North Avenue, and freebies at Knockout Boxing at 236 North Avenue Avenue and Lord & Andre Gallery at 240 North Avenue and more!
The fun doesn't stop there. The New Rochelle Public Library's Downtown Children's Room will still be hosting Halloween Story Time inside on Saturday at 12:30pm.
After all of that activity, we recommend that everyone stay Downtown for a festive and fun lunch. Many local eateries offer children's meals, including Wooden Spoon at 16 Division Street and Colombian House at 585 Main St. Applebee's at New Roc City is offering for New Rochelle Downtown visitors a free children's meal with the purchase of an adult meal all Halloween weekend.
More treats: Halloween will also feature the annual Pet Costume Contest at BarkNBones Pet Boutique at 456 Main St. They also have a new Haunted House experience. Winners are in for some great prizes!
On Sunday, October 31st at 3:00 pm, theNRPL will once again welcome Mexican folkloric dance performances from Calpulli Mexican Dance in observation of Dia de los Muertos/Day of the Dead, the Mexican holiday on November 1 to remember and celebrate the lives of loved ones who have passed.
---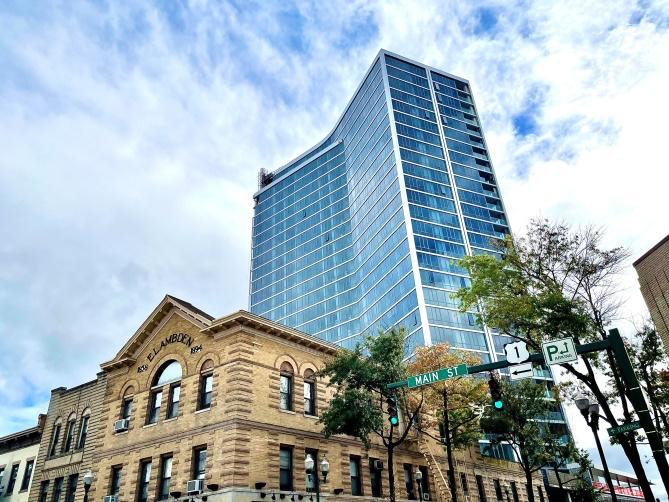 More New Downtown Buildings "Top Off" and get Tenant Ready
The Downtown skyline continues to change as building projects near completion. Here's the latest: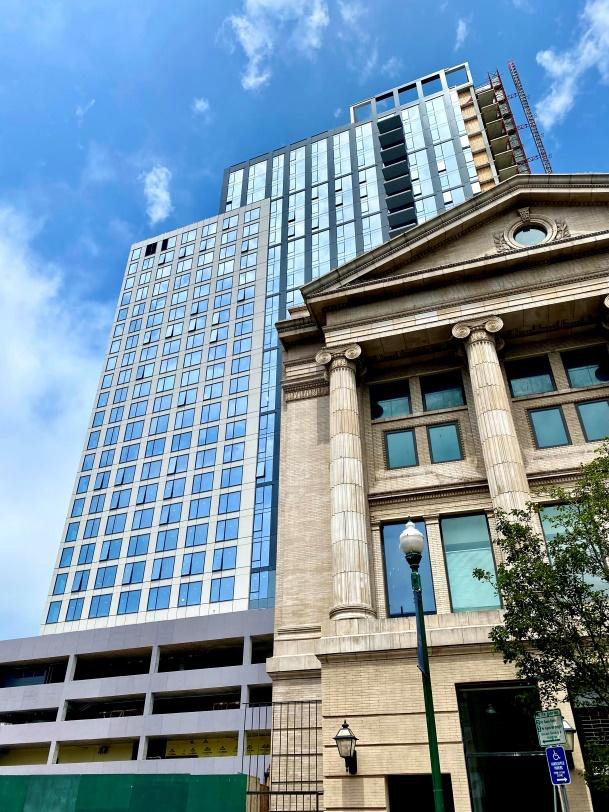 LeCount Place and Main Street where the newStella shines majestically in all its stories. It features a top-floor pool.
Make sure you get Downtown to see the amazing transformations happening within our vibrant community.
---
Monroe College Campus to Host New Rochelle Public Schools' Alternative HS
The City School District of New Rochelle Board of Education announced last week that its alternative high school, Huguenot Academy, will be relocating to space within 140 Huguenot Street, which is part of Monroe College's downtown campus.
As explained in the school district's announcement, "(t)he relocation of the Academy, currently located next to the library at New Rochelle High School, will provide more spacious accommodations for faculty and students…"
It went on to say that the new space was "…selected for its location, accessibility, amenities, and potential. The 16,500-square-foot space has potential for Huguenot Academy enrollment to grow from its current 72 students to 200. Areas will include space for core classes, physical education, computer labs, study hall, and a multipurpose room."
Said Marc Jerome, President of Monroe College: "We are delighted to provide a home for the Huguenot Academy on our campus. We have been a proud member of the New Rochelle community for nearly 40 years and are happy to share our classroom facilities so that in-person learning can resume for these deserving students."
---

VAEA Features Downtown Studios' Dancers and an Upcoming Awards Ceremony
The Venezuelan American Endowment for the Arts (VAEA) has had a busy month indeed! It began with an art installation in Davenport Park that brought together international artist Miguel Braceli and NRPS students for a fascinating large-scale public art installation titled Here Lies a Flag. Then came ArtsFest and the wonderful performances at 595 Main St by Downtown's talented dance studio students.
Looking ahead, VAEA has announced the honorees for its international PAEZ Medal of Art to be awarded at their annual benefit in Lincoln Center on Wednesday, December 14, at 7:00 pm. They are world-renowned architects Frank Gehry and James Alcock. Click here for tickets and more information.
---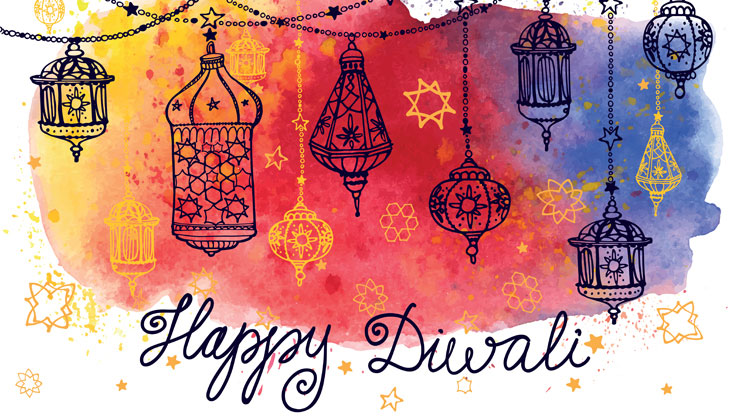 First Lights of the Holiday Season Begin Thursday, November 4, with Diwali
Celebrated by Hindus, Jains, Sikhs and some Buddhists, Diwali is a five-day holiday that symbolizes the victory of light over darkness and is one of the most important periods on the Indian calendar. The holiday comes on November 4 just a few days before Daylight Savings Time ends on November 7. Our Downtown restaurant Shirley's Flavors of India at 1 Leroy Pl/23 S. Division St (914-632-6736) will have special dishes on the menu for a festive celebration.
---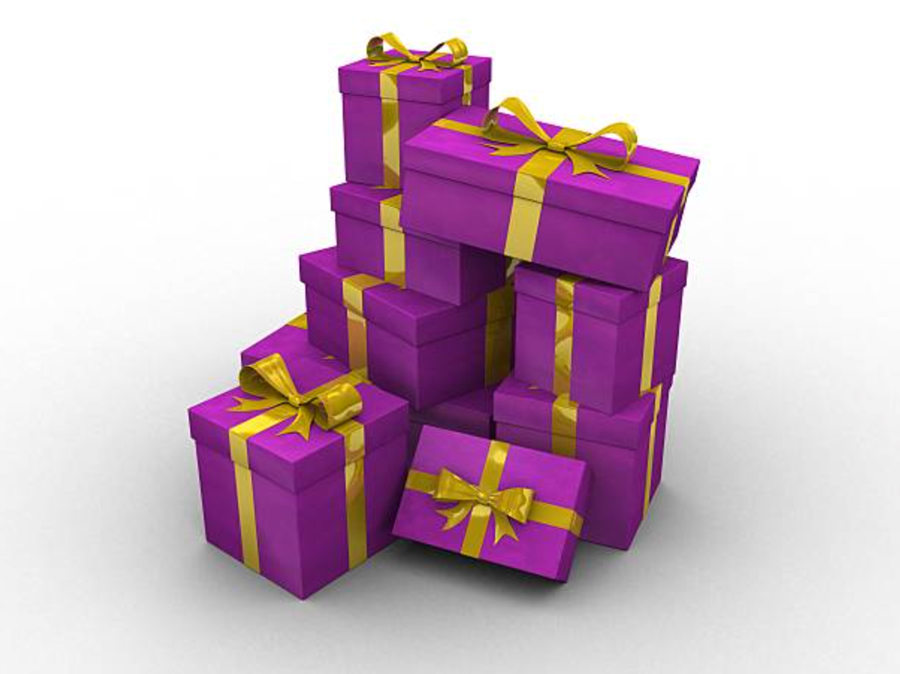 Order Early and Often!
Downtown Shops and Eateries Are Prepping Early for This Year's Long Holiday Season
The winter holidays will be here before you know it – and our Downtown merchants are ready with top-trending items and savory meals to help everyone have the best holidays. This year, our business owners' foresight and creativity plus astute early ordering are keeping our shops and restaurants stocked and ready for our Downtown customers.
Be sure to have your restaurant reservations and orders in mind at the beginning of November. Click herefor our restaurant list. Many of our eateries will offer indoor dining and take out for Thanksgiving and holiday season meals.
Shopping lists should be everyone's next action as the magic and light of this year's holiday cycle begins on Thursday November 4-7 with Diwali , followed on November 28-December 6 by Chanukah, on December 25 with Christmas, and December 26-January 1 with Kwanzaa.
Time to put those shopping lists together! Here are some terrific ideas available Downtown for those on your gift-giving list:
---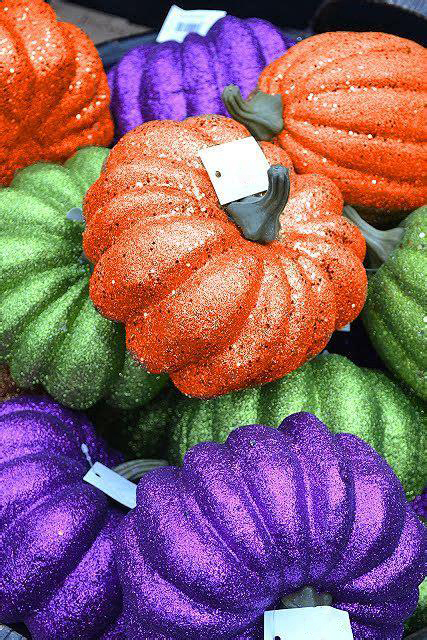 As we wind down our October "Super Month" with fun for children, families – and even our pets — New Rochelle Downtown looks forward with a twinkle of excitement to the winter holiday season of harmony, light, and magic.
Our lights Downtown are bright indeed!
In these unusual times, our hope shines for everyone here as we have wondrous changes coming. We look forward to welcoming new buildings, residents, and friends in this most unique blend of history and groundbreaking transformation.
Come Downtown and enjoy our many treats! (And don't forget to turn your clocks back next week when Daylight Savings Time ends on November 7!)
Karel

Karel Littman,
Executive Director
New Rochelle Business Improvement District (NRBID)
newrochelledowntownbid@gmail.com
PS FOLLOW us on Instagram (@nrbid) and LIKE us on Facebook (@nrbid).