January 6, 2021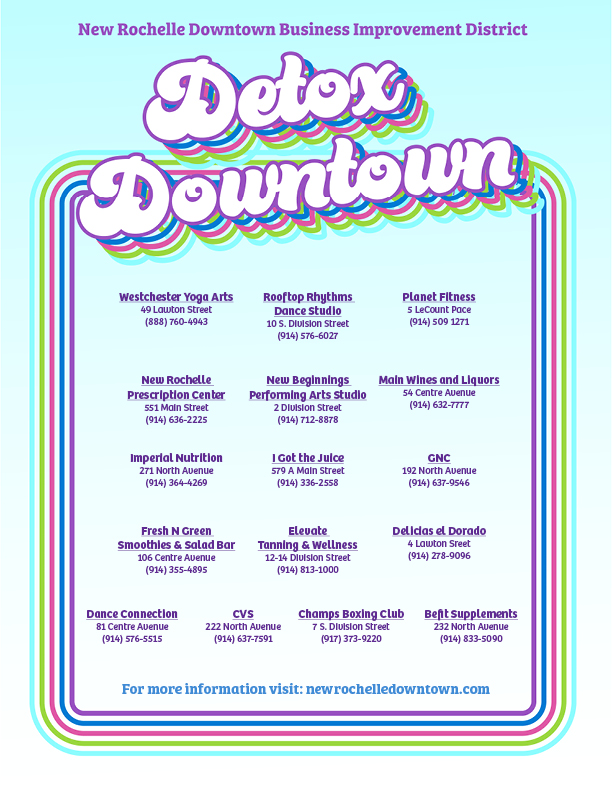 Begin Your New Year's Resolution for a Healthier Lifestyle with Detox Downtown.
If you are among those eager to embrace a healthier lifestyle as we kick off this new year, there's great news for you.
Our New Rochelle Downtown merchants and restaurants are offering many ways to regain a healthy lifestyle and boost your immune system so that you can stay in top condition. Join us Downtown for some great ways for you and your family to stay fit this winter.
This month, it is time to Detox Downtown.
If juicing is for you, go for some dependable detoxing at I Got the Juice at 579A Main Street. They offer plenty of fresh and healthy choices, from detox smoothies to their own new line of immune shots to veggie meals.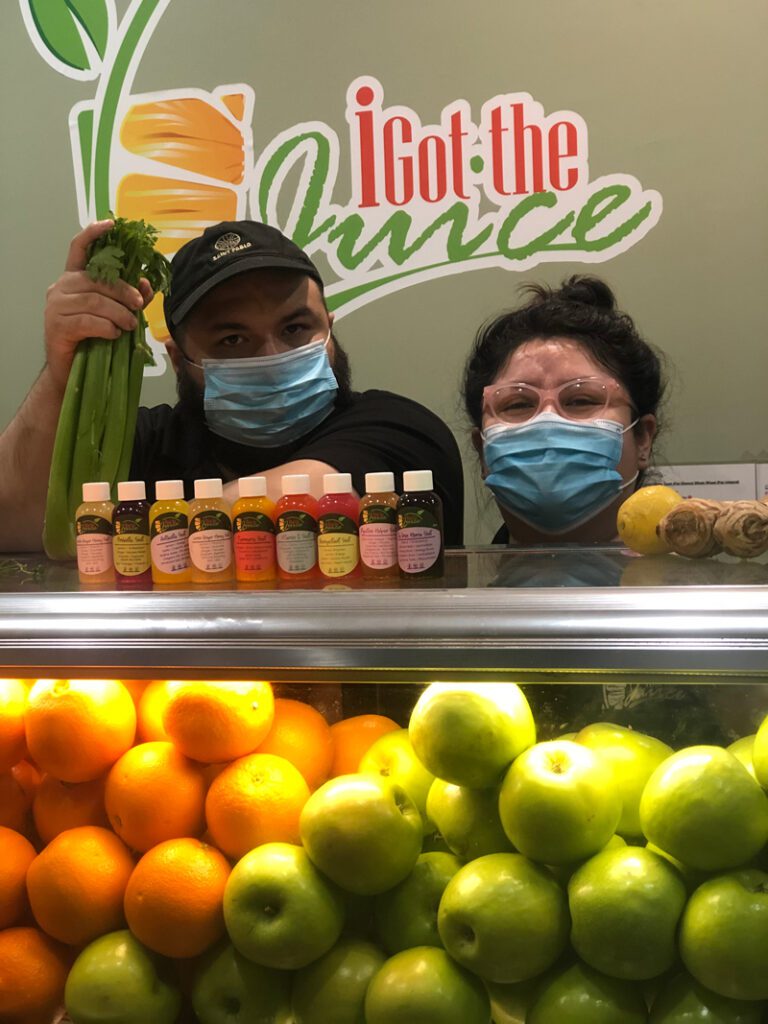 You can get special Ecuadorian special recipe smoothies at Delicias el Dorado at 4 Lawton Street and great green juices at the new Fresh N Green Smoothies & Salad Bar at 106 Centre Avenue.
For vitamins, supplements and protein powders, go to North Avenue to GNC at 192 North Avenue or Befit Supplements at 232 North Avenue.
For medical prescriptions and various over-the-counter health remedies, check out New Rochelle Prescription Center at 551 Main Street or CVS at 222 North Avenue.
Of course, there are those who swear they owe their good health to a daily tipple. If you're among them, you can always ring in the new year the old fashioned way – with a shot of whiskey from Main Wines and Liquors at 54 Centre Avenue or at any of our Downtown restaurants.
Since moving your body is also part of the renewal of a Detox Downtown, consider signing up for virtual Yoga classes at Westchester Yoga Arts or in-person workouts at Planet Fitness at 5 LeCount Place. You can also give boxing a try with lessons at Champs Boxing Club at 7 S. Division Street.
Alternatively, sign up for some aerobics and dance lessons. Anyone for rhumba, Zumba, salsa, hip hop, tap or ballet? If so, check out Dance Connection at 81 Centre Avenue, Loft 304; New Beginnings Performing Arts Studio at 2 Division Street; and Rooftop Rhythms Dance Studio at 10 S. Division Street, Suite 7.
These are just a few ways that our Downtown Merchants can help you keep your healthy resolutions. Happy 2021!
---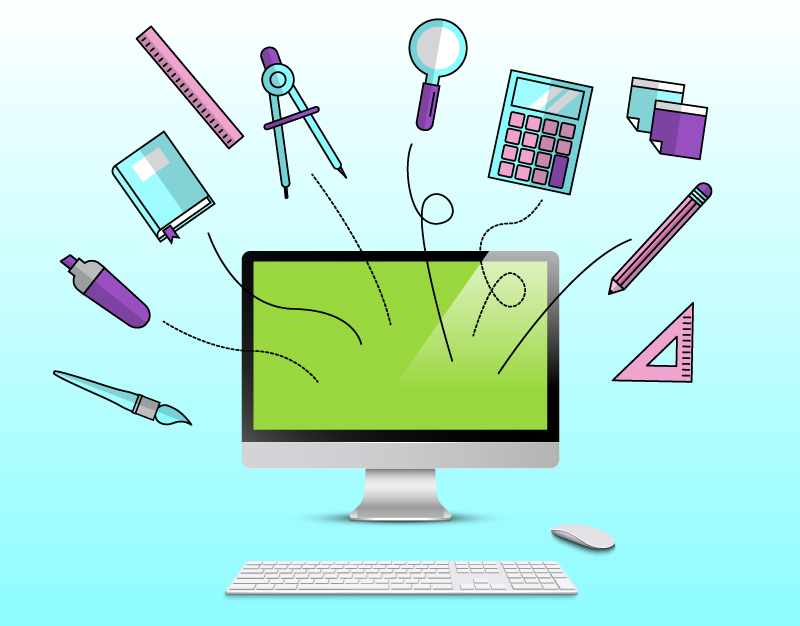 Classes Begin This Week at Monroe College

Downtown's Monroe College is getting ready to kick off its Winter semester this Friday, January 8th.
If it sounds a little early for students to be returning to class, there's a good reason.
Monroe adheres to a three-semester academic calendar, which helps students stay focused on their studies with less down time. It also means they can earn their degrees more quickly.
In addition to the Winter semester starting this week, Monroe has a Spring semester that begins in late April and a Fall semester that begins in early September.
With COVID-19 remaining a significant concern, Monroe's classes this semester will start in virtual classrooms. That said, you'll still see students on Main Street proudly wearing their "Monroe Mustangs" swag as the dorms remain open at reduced capacity.
If you're thinking about continuing your education, click here to see if Monroe is the right college for you.
---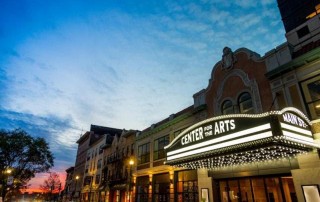 VAEA's Virtual Gala a Success!
Exciting New Art Exhibits Coming to Downtown
The Venezuelan America Endowment for the Arts (VAEA — Fondo Venezolano Americano para las Artes) added new heights of elegance and international flair to New Rochelle Downtown with their 30th gala held virtually last week. It was a lovely affair by all accounts! Click here to view.
Next up is the innovative and international art exhibit called Renacimiento: 1st New Rochelle Invitational right here in the heart of Downtown at 587 Main St. Walk by and look in the windows on Main Street under the historic marquee and you'll see this international creativity on display.
---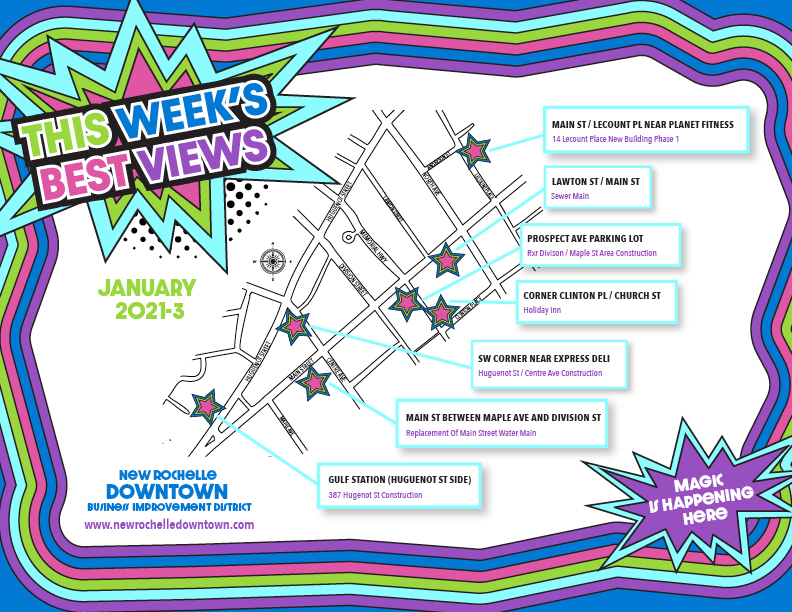 Downtown's best views.

Here are this week's recommendations.
Downtown's stories are rising. The new mains are progressing. Look down to see the historic layers below and look up and see the shining new views. Click here for our latest map.
---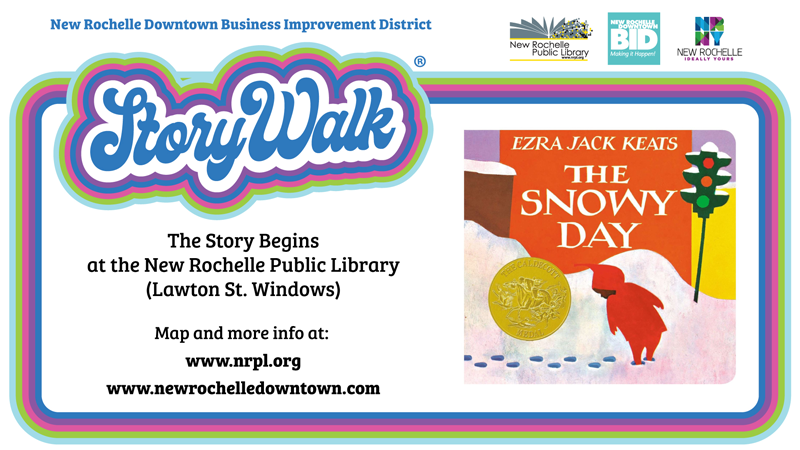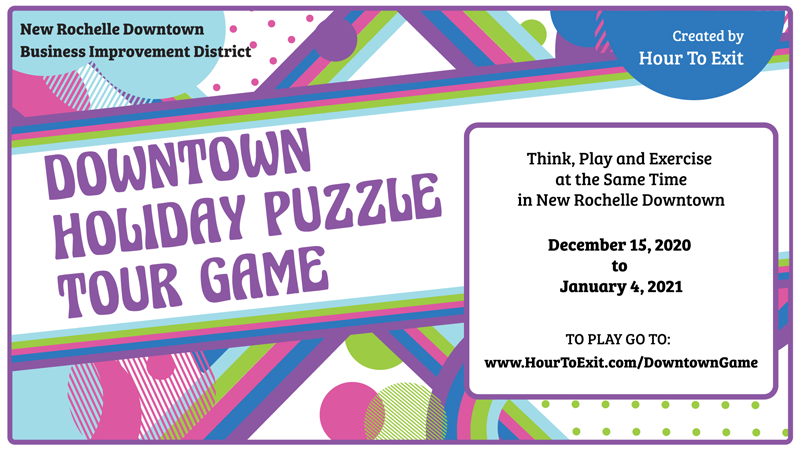 Nice Turnout for Winter Walks

Outdoor Offerings Have Helped People Get Learning and Moving Around Downtown.
We hope that you were able to walk around Downtown during the holidays. Our Merchants pulled out all the stops to provide great service and offerings and add a festive air to our Community.
Many thanks to all who have helped make our Winter Walks a fun new addition to the holiday season calendar. We must give our partners at the New Rochelle Public Library and the Hour to Exit in-District escape game company (466 Main St.) a big shout-out of appreciation!
We also appreciate our partners at the City of New Rochelle and the Chamber for their great work helping us promote our Winter Walks. And finally, a big thank you to our 25 NRBID Merchants and Restaurants who have dedicated window space for the posters. Missed it? Click here for New Rochelle Downtown's StoryWalk experience – which we are going to keep up until January 18th because it's so nice.
---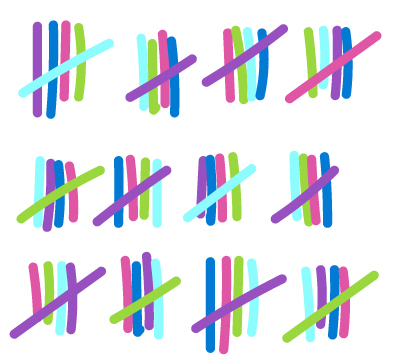 Westchester Magazine Wants to Know Your Favorites

Vote for Your New Rochelle Downtown Favorites by January 20!
We would love for our New Rochelle Downtown Merchants to win your raves.
Click here to register your NRBID Faves.
---

Helpful Information for Business Owners


Next Round of the Paycheck Protection Program (PPP), a forgivable business loan offered through the federal government's Small Business Administration (SBA) that helps businesses keep their workforce employed during the Coronavirus (COVID-19) crisis. While $284 billion was just allocated for another round of the PPP, remember that the first round of funding ran out fast, and many businesses that were not prepared ahead of time were unable to successfully apply for funding. Although guidelines and applications are not live yet, it is recommended that you begin preparing now so you are ready to apply as quickly as possible.
How you can begin preparing: (Note: requirements may change, but below are a few ways to start preparing.)Each lender may have different requirements, but you can begin collecting some commonly required documents, including:
Copy of Photo ID for all owners who own 20% of the business or more
2019 and 2020 Profit and Loss Statements to show revenue loss during 2020
For sole proprietors – include IRS Form 1040 Schedule C
Articles of Incorporation / Business Organizational Documents
Payroll Reports with a list of gross wages, paid time off, and taxes assessed for all employees for all 12 months of 2020
2020 Employer IRS Documents (including one of the following for all 4 quarters of 2020):

Form 941: Employer's Quarterly Federal Tax Return
Form 944: Employer's Annual Federal Tax Return (for smallest employers)
Form 940: Employer's Annual Federal Unemployment (FUTA) Tax Return
Form W-3: Transmittal of Wage and Tax Statements
Documentation to support Health Insurance and Retirement expenses incurred as a part of payroll expenses (for example: a statement from insurance or retirement company)


New York Forward Small Business Lease Assistance Partnership will provide small businesses and their landlords with informational resources and pro bono assistance to help both parties reach mutually-beneficial lease workout agreements. This service is available to all New York State small businesses and landlords, and participation is voluntary. Over the next year, the partnership has the capacity to serve thousands of small businesses statewide. The Small Business Lease Assistance Partnership website includes information on the lease renegotiation process and details the different types of lease workouts available to help small businesses cope with the financial impacts of COVID-19. Those interested in pro bono assistance to initiate a lease renegotiation are encouraged to review and complete the partnership's intake form. After completing the form, each small business will receive an email detailing an estimated timeline for placement with a volunteer attorney. Once matched, the volunteer attorney will email the applicant to schedule an appointment.
---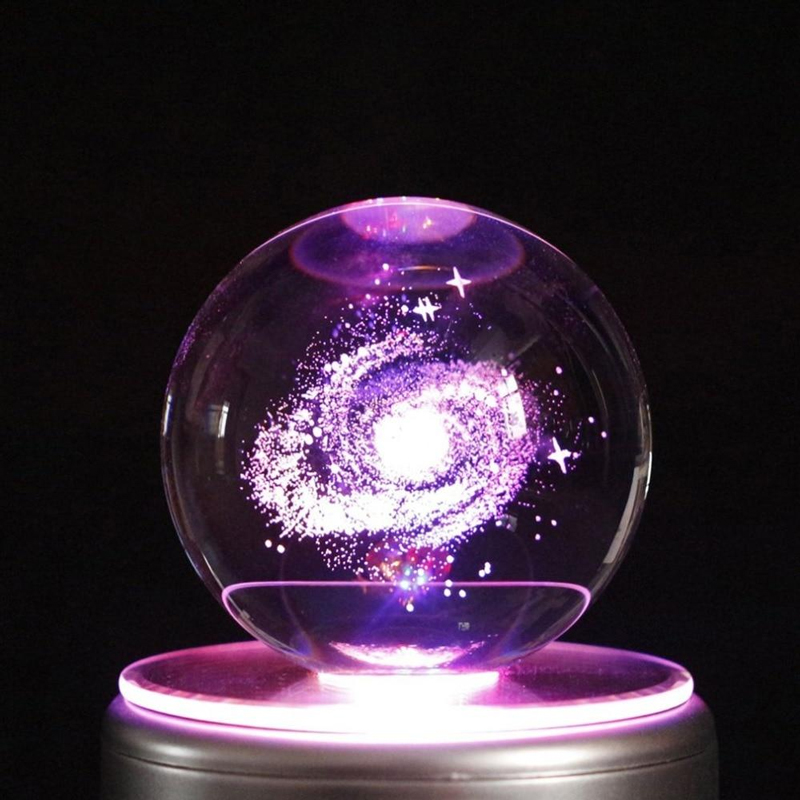 It's a new year… a new month…and a chance for a new beginning.
A well known broadcaster says: "Cheers to a new year and another chance for us to get it right. "
We all are searching for ways to regroup and detox, take steps forward, and open new doors.
Progress takes time. If you need inspiration, just take a walk Downtown and you'll certainly see the great progress being made. Our skyline is changing daily.
It is all part of the magic that is happening for you here in NewRo Downtown.
See you soon!
Karel

Karel Littman,
Executive Director
New Rochelle Business Improvement District (NRBID)
Like us on Facebook (@nrbid) Follow us on Instagram (@nrbid)! Make sure you share our posts and tag us (#nrbid) so we can share yours.