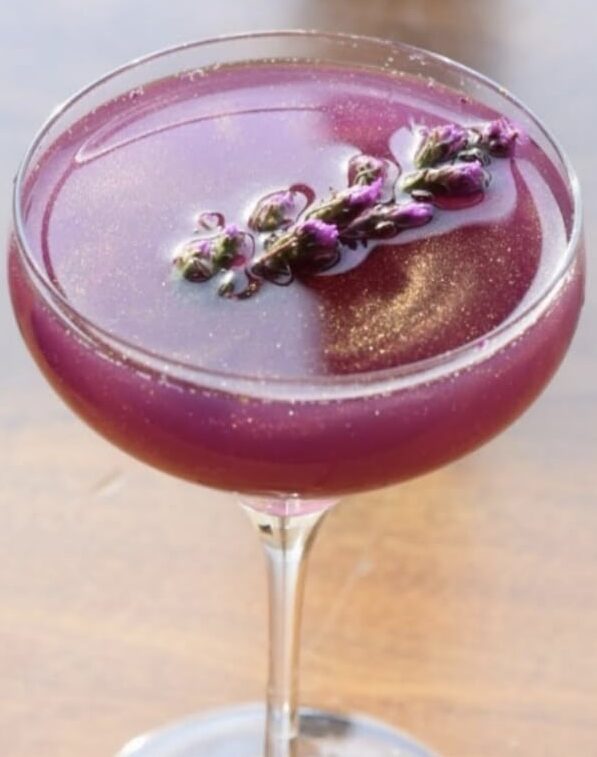 Say "Cheers!" to Summer
With Floral Essence Drinks
This Month at Downtown Restaurants
Summer is here and the flowers are in bloom – at Downtown bars and eateries!
Downtown mixologists have created some unique cocktails and mock-tails infused with floral essences that will definitely help everyone cheer on the start of summer.
Join us Downtown and find out what the buzz is all about!
More than a dozen local restaurants are mixing up these creative drinks with floral flavors such as hibiscus, lavender, and orange blossom. Hurry — they'll only remain on the menus through the end of the month!

Click here the list of Restaurants and descriptions of the Floral Essence Drinks.

Click Here for New Rochelle Downtown's latest commercial.
---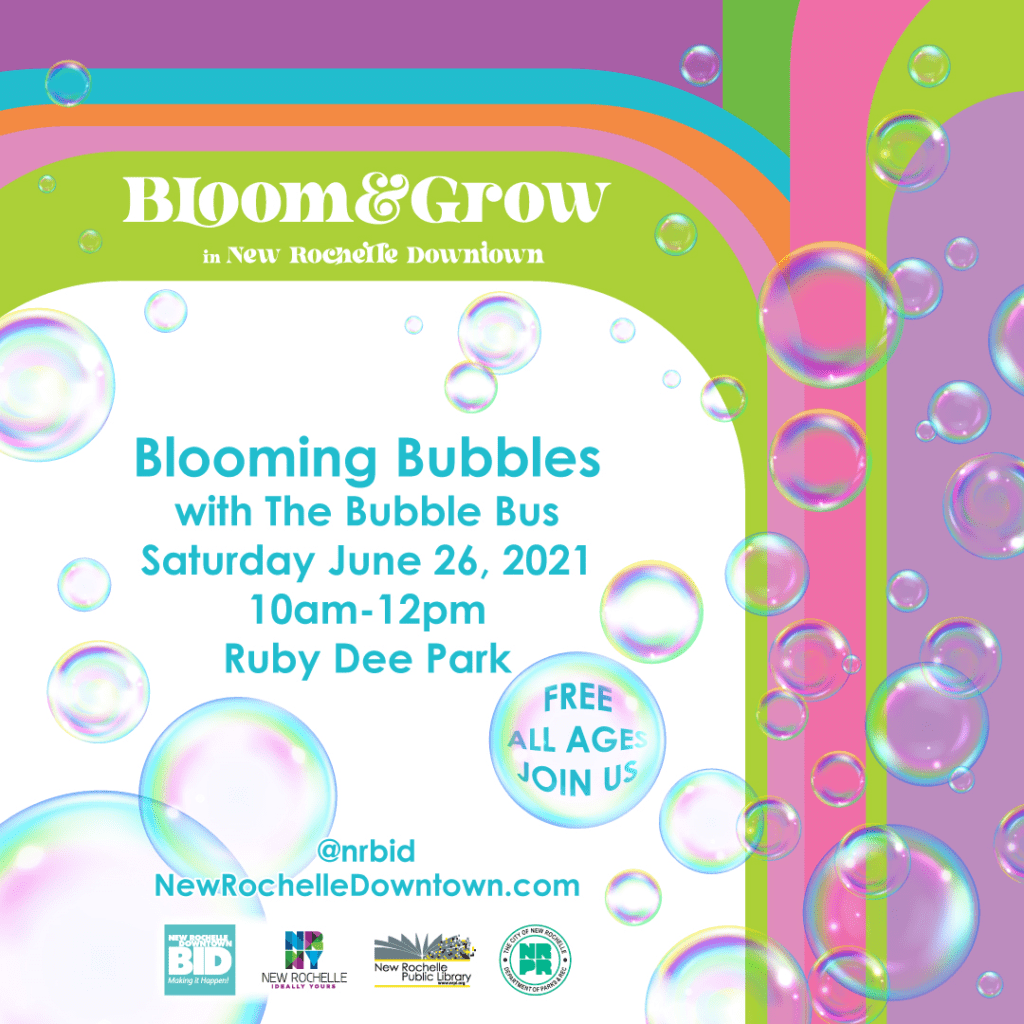 Pop by Ruby Dee Park this Saturday for Bubbles and More Bubbles!
The NRBID, NRPL, NRNY and New Rochelle Parks Department are excited to host Blooming Bubbles, a fun family "pop up" event (pun definitely intended) this coming Saturday, June 26th, from 10:00 am to noon.
Library Green's Ruby Dee Park will be filled with bubbles, bubbles, and more bubbles for everyone to run around and catch.
There's no rain date, so hopefully we'll have some good weather. Bring the kids and join us for some bloomin' great bubble fun!
---

A Final Note: Last Sidewalk Grow Note Message to Appear this Friday
So far, three beautiful Grow Notes have appeared on sidewalks around Downtown. Did you find them?
The beautiful, inspirational messages are created by the NRBID's behind-the-scenes guest artist, a talented Westchester mom of three who began doing sidewalk chalk art as a comfort during the pandemic.
One more Grow Note will appear this Friday. If you spot a woman before dawn carrying a box of chalk, chances are you've spotted our Mystery Artist who will be revealed after this last artwork.
So far, local residents have won $50 gift certificates to their favorite places – Modern Restaurant, Wooden Spoon included – for being among the first to find one of the earlier Grow Notes.
The first sidewalk art location was in front of The Curtain Shop on Main Street, the second location was at the Marriott Residence Inn at New Roc City, and the third was on Division Street between Diner Brew and Enchanted Flowers.
Will you find the fourth and final Grow Note?
When you spot it, snap a picture, post it on your Instagram account, tag #IFoundItNR and @nrbid and you'll be entered to win your $50 gift certificate to your favorite Downtown shop or restaurant*. Help us spread positivity and good feelings by sharing the Grow Note image on your social media during this month of celebrations. You just may win a gift card for doing so!
*Sweepstakes begins on June 4, 2021, and ends on Monday, June 28, 2021, at 11:59 am (EST). Posts are only eligible to be entered from public Instagram accounts. One winner will be randomly chosen each week on or around 12:30 pm on Mondays and contacted the same day via Instagram direct message. Entrants must be at least 18 years or older and a resident of the United States to enter.
---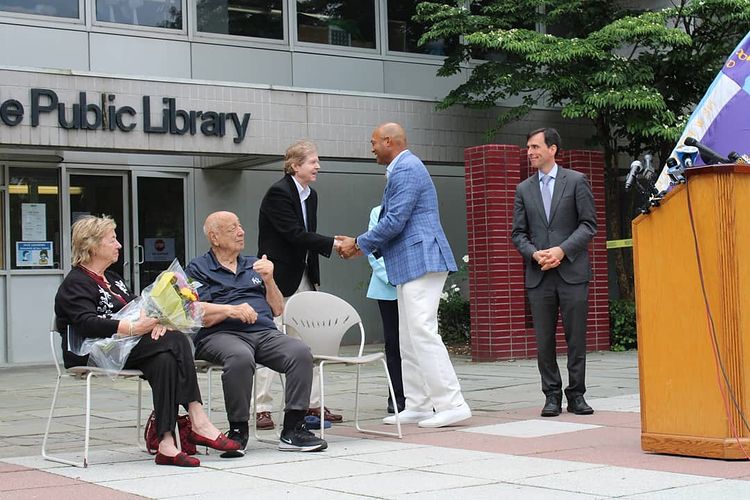 Walk of Fame Adds Two New Plaques: Sports Stars Who Made an Impact
New Rochelle's Walk of Fame at Library Green's Ruby Dee Park added two athletes to its impressive line-up on June 11th.
NFL trailblazer Frederick Douglass "Fritz" Pollard, the League's first African-American head coach and Yankees great Mariano Rivera were both inducted. Pollard lived in the City from 1961 to 1983. Rivera, a New Rochelle resident for nine years who maintains a close connection to our community to this day, was on hand for the induction celebration.
The New Rochelle Walk of Fame, installed in 2011, is a unique tribute to accomplished individuals with national prominence who have distinct ties to New Rochelle. It features waist-high plaques with each inductee's story set around the park's circular walk.
This beloved historical highlight in Downtown was created and funded by former resident and historian Roderick Kennedy Jr., working in partnership with the City of New Rochelle and the Downtown Business Improvement District.
---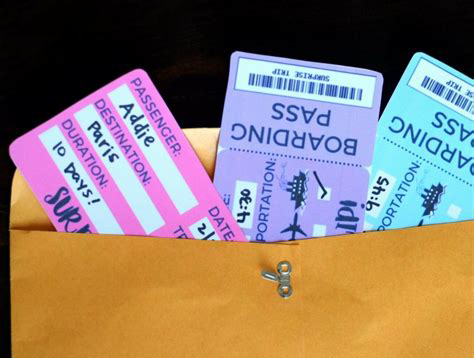 How to Beat the Traffic?
With a Stay-Cation Downtown!
Are you and your family looking to do a little mini-vacation right at home? If so, your Downtown merchants and restauranteurs are ready to help you put together a fun, stay-in-town experience.
Fun things to do right here in New Rochelle Downtown:
If you're looking to go big, consider buying some hot wheels at the Wheel Sport Center Yamaha showroom at 399 Huguenot St. where you'll find lots of two- and three-wheel motorcycles and other interesting vehicles all in colors and styles.
Looking for something less permanent? Why not reserve a car at Enterprise Rent-A-Car at 90 Huguenot St. and try something different for a change? Despite the national rental car supply issue, cars are available. Advance reservations are strongly recommended!
Make an overnight reservation at either Residence Inn by Marriott at 35 Le Count Pl. or Radisson Hotel New Rochelle at 1 Radisson Pl. for that special night or two.
Pick up some new sneakers for your "trip" at 4 Seasons on 530A Main St. and some new shoes or rain boots for the kids at Jay's Boutique at 490 Main St.
Grab that wind-proof umbrella at Curtain Shop at 541 Main St. just in case.
Plan where you will find some fun food at one of New Rochelle Downtown's 70+ dining spots.Give yourself extra time to savor all of the great international flavors!
Enjoy the music with dinner at Alvin and Friends at 14 Memorial Hwy, Colombian House at 585 Main St , Diner Brew at 40 Division St, KRAVE at 8 Division St Southor…
…go dancing at Noma Social at 1 Radisson Plaza!
Warm up your vocal cords and have karaoke fun at Olibar at 583 Main St or SalsyBrasa at 10 Maple Ave.
Pick your tix to the in-person movies at New Roc City's Regal Cinemas
Book your bounce – fun for adults and kids – at Sky Zone at New Roc City.
Do a family Escape Room Game at Hour to Exit at 466 Main St.
Go to Ruby Dee Park at Library Green and get some exercise in while you check out the City's Walk of Fame and its terrific celebrity stories.
While you are exploring, be sure to look up and marvel at the new and amazing additions to our skyline.
Finally, don't forget to pick up a gift at BarkNBones at 456 Main St for that beloved doggie who will be so happy to welcome you when you return home from your "trip."
---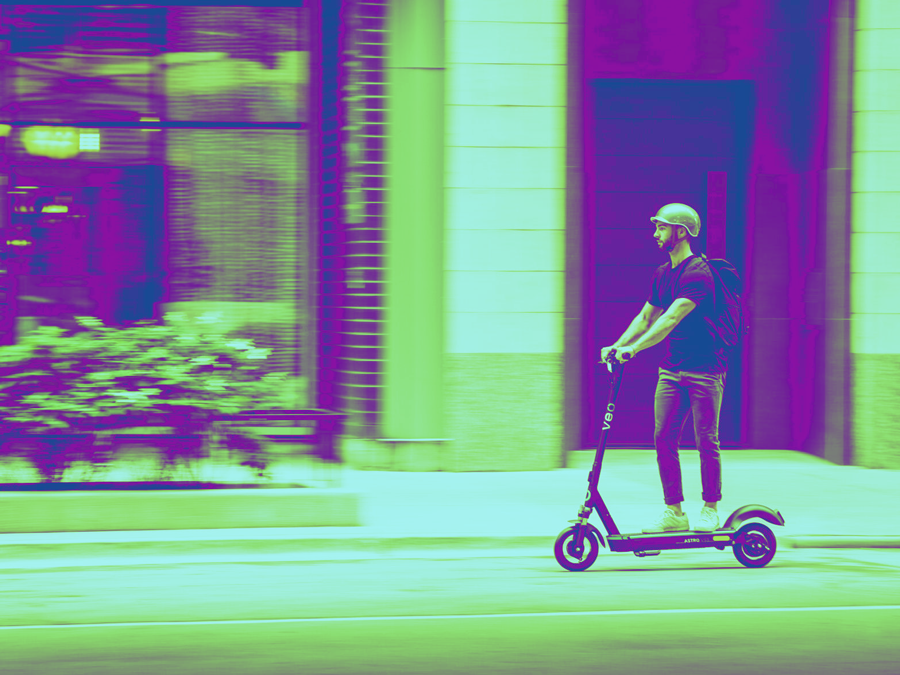 More New Ways to Zip Around: E-Scooters and Bikes
Now more than ever, New Rochelle is a city on the move!
Earlier this month, the City and bike- and scooter-share company Veo rolled-out multiple installations around town for residents and visitors to take a bike or scooter to their next destination.
The project was finalized in late 2019 but implementation was delayed due to the pandemic. With New York State opening up again, it was deemed time to move forward.
You will need to open an account and download the Veo app on your smartphone to electronically "unlock" a bike or scooter from where you find it.
It's $1 to unblock plus five cents per minute for the bikes and $1 to unlock plus 39 cents per minute for the scooters.
Thanks to geofencing technology, the bikes and scooters will only operate within the boundaries set by the City. Those that inadvertently cross the electronic boundary will slow down before coming to a complete stop.
---
There's a lot that is Blooming and Growing here in Downtown.
There are new apartments, new friends, and new fun.
So whether you are keeping up with the trends, or doing the celebrations of June or planning the vacations/stay-cations for this summer, you'll always be able to find ways to do it here.
Want to keep up to date with everything happening Downtown?
Follow us on Instagram (@nrbid) and Like us on Facebook (@nrbid)
See you soon!
Karel

Karel Littman,
Executive Director
New Rochelle Business Improvement District (NRBID)
newrochelledowntownbid@gmail.com