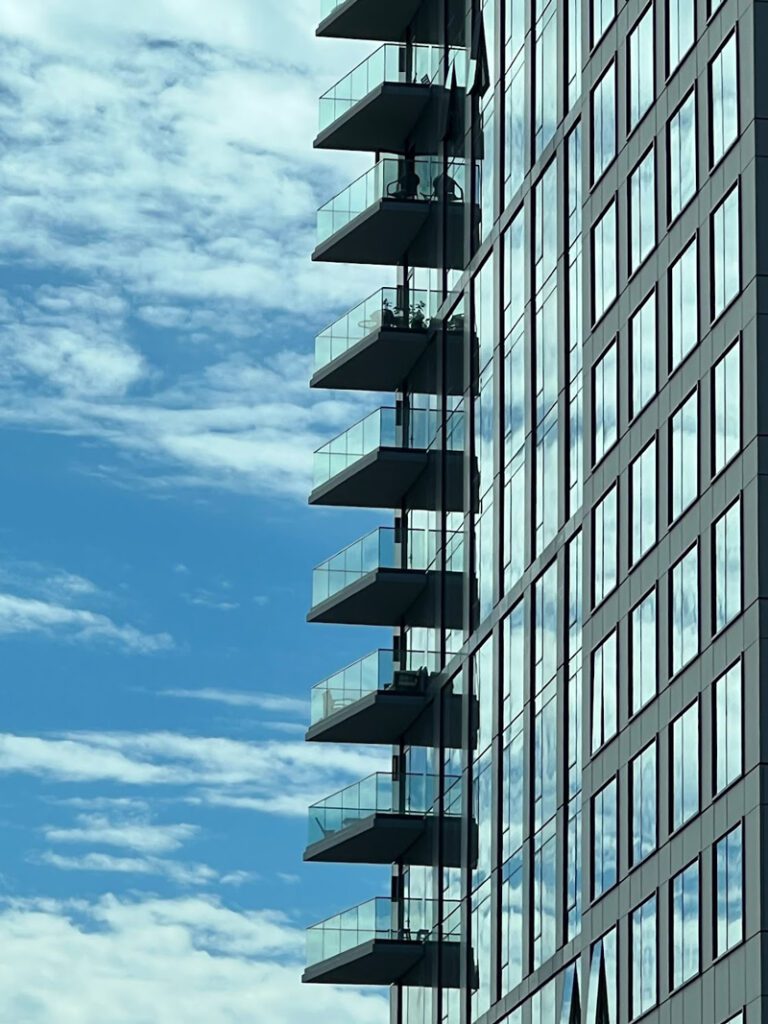 Keeping Things Cool in New Rochelle Downtown
Summer may still be sizzling, but New Rochelle Downtown's music scene is definitely keeping things very cool.
Singer Alicia Keys and her multi-talented musician husband Swizz Beatz certainly brought the cool factor with them last week to Noma Social 1 Radisson Plaza. They were there for a private party and even performed a few songs for guests. Check it out.
In other cool music news, we have some great jazz on tap this weekend. On Friday, Alvin and Friends Restaurant at 14 Memorial Hwy August 19th, welcomes the Brazilwood Trio with bossa nova beats 7:30 pm to 10:15 pm. The following night, Saturday, the Wayne Henderson Group brings hot jazz to the NRPL's Ossie Davis Theater for a free concert from noon to 2:00 pm.
Fridays have always been great for live music Downtown. Be sure to check out New Ro Parc at 455 Main St on the corner of North Ave. This summer "pop up park" features local bands performing free to the public on Friday evenings as part of its Summer Sounds concert series.
Our restaurants and eateries also offer terrific live music. Be sure to take a look at the weekly music offerings being served upat Colombian House, Salsy Brasa, Arepe Mania and others.
Our newest neighbors are also adding to our vibrant music scene. Be sure to check out the Stella, for example, on Thursday evenings.
Where there's music there is dancing, and Downtown has had that covered, too, with the International Music and Dance Festivalsponsored by theNRBID, the NRPL, and the Friends of the NRPL. This popular annual event came back this summer to glorious applause after a two year hiatus. If you haven't had a chance to watch some of the phenomenal dancers, be sure to check it out here!
---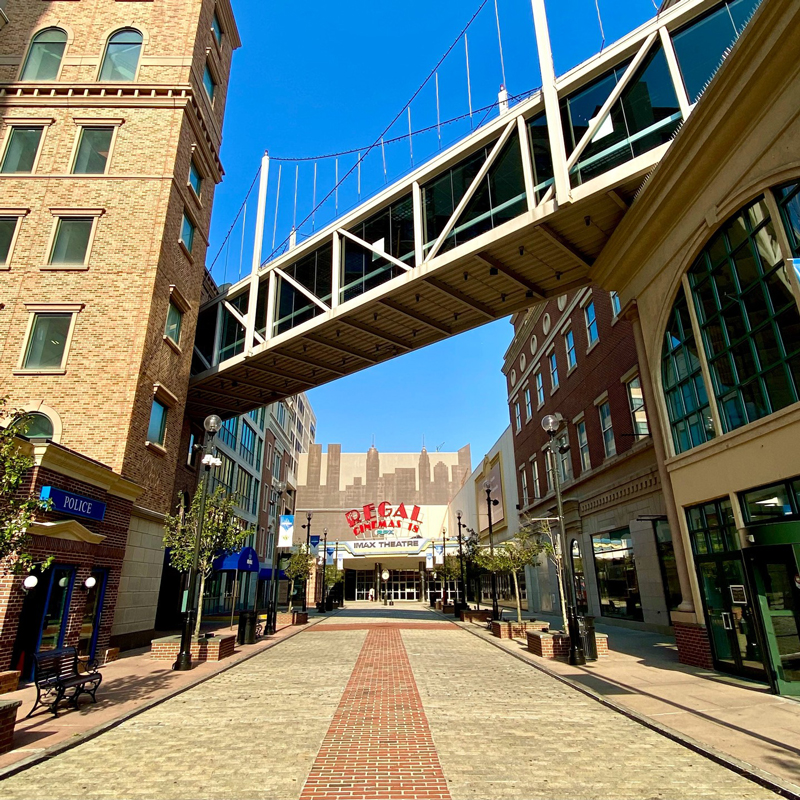 Travel into Films
Going to the movies has always been a great way to escape the heat. New Roc City's Regal Cinemas has the latest blockbusters on its IMAX, 4DX, and RPX screens, as well as plenty of delicious buttery popcorn and chill air-conditioning to keep you cool and relaxed.
Speaking of movies, the New Ro Parc pop up park has been featuring Moonlight Movies on Saturday evenings at 8:30 pm. It's a fun way to spend a summer night! The park was the site of the first VAEA Film Festival, which was held last month. It was a nice debut!
If you'd rather curl up on the couch to watch your movie, the NRPL has an extensive video collection. Simply head on over and check out – literally – your favorite movie!
---
Summer Fun Redux
Come join us as we say goodbye to summer at the final Party in the Park for the season. The fun takes place in Library Green's Ruby Dee Park on Thursday, August 25, beginning at 5:00 pm.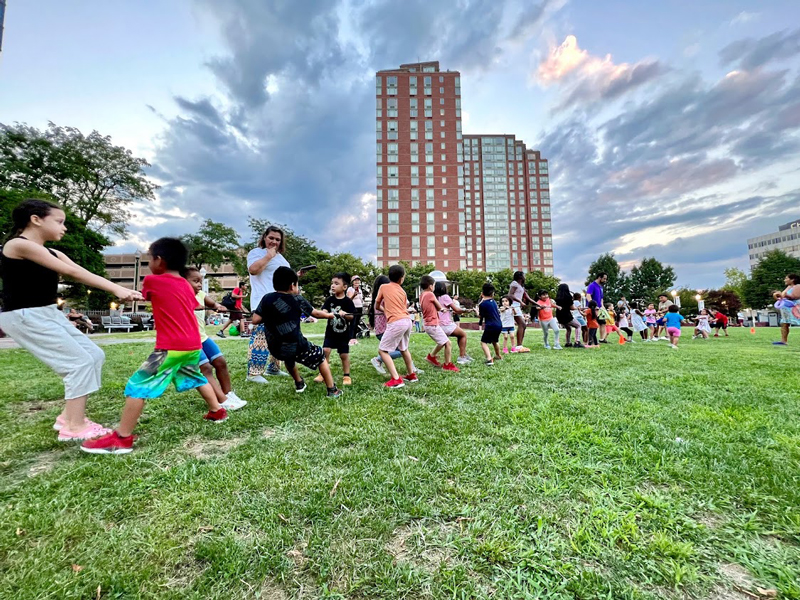 Our DJ will kick things off early, so be sure to grab your Special Take-Out Dinners from one of our terrific restaurants that have crafted specially priced menus just for dining out and find your happy place on the green. Come on over, sit back, and enjoy. Bring the kids and let them play and enjoy the fun!
---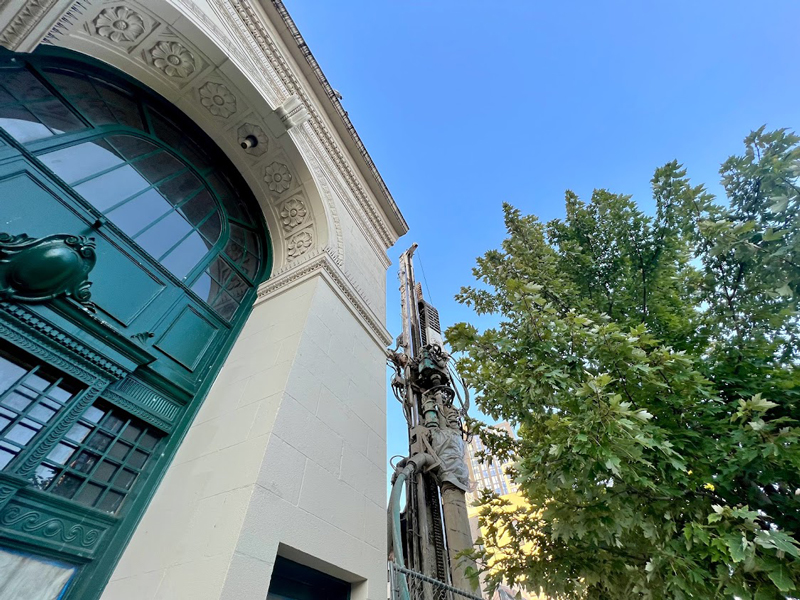 Summer Collabs
Collaborations – or "collabs" — abound here in Downtown this summer. We have Lord and Andra Gallery doing Paint, Sip and Dine sessions at New Roc City's Applebee's on Thursday evenings.
One Clinton Park, our new building on Division St., recently invited Downtown healthy smoothie place I Got the Juice at 579A Main St to come by and set up a mini pop-up shop in the lobby for the day so residents could enjoy a free treat!
The New Rochelle Police Department was also recently handing out free treats. NRPD members held a super-fun "Cones with a Cop" event on Lawton Street at Ruby Dee Park for the community. Folks were invited to come by, say hello, and get to know some of the incredible people protecting and serving the City. There were some great conversations with our Downtown Police Officers and some terrific giveaways. That collab was sponsored by the NRIDA and City of New Rochelle.
---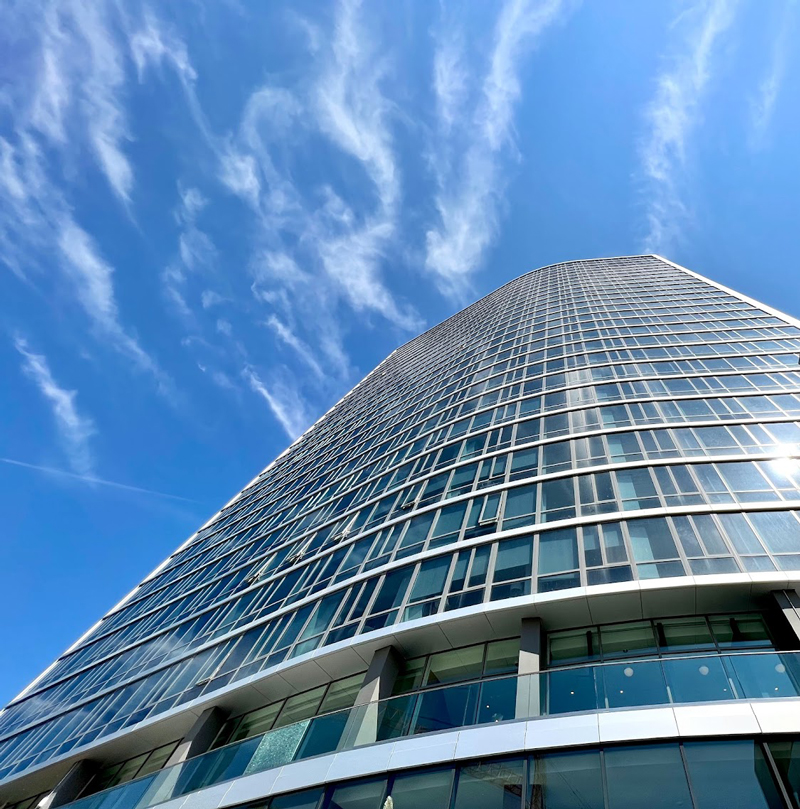 Affordable Housing Application Closes this Friday for The Modera
This Friday, August 19th, is the deadline to submit an affordable housing application for a wonderful apartment inThe Modera on Centre Avenue. This new eight-story elevator building has wonderful amenities and great access to everything New Rochelle Downtown offers. Click here for more information.
In other housing news, the City of New Rochelle kicked off a great new contest. The prize? One year rent-free in a brand new building here in Downtown. Tagged #newroconnects, the campaign is the brainchild of the Planning Department. It seeks to grow the City's creative community by inviting artists, innovators, and the like to submit a video explaining why they'd like to call New Rochelle home. See details here.
---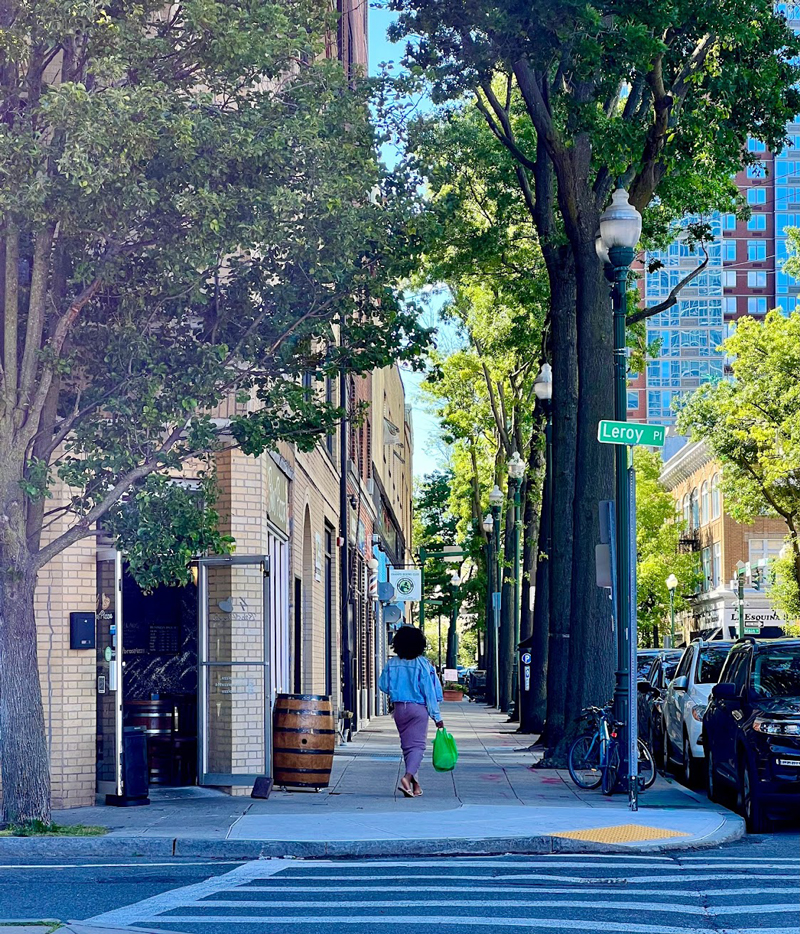 Back to (Stunt) School
School may be just around the corner for most students, but for those enrolled in UATW Stunts School, it's more like school is on the ground. After all, one of the hardest stunts they teach is how to safely hit the ground – hard!
Located in Champs Boxing Club at 7 S. Division St., UATW Stunts School has been producing performers, fight choreographers, and stunt coordinators for the TV and film industry for the last six years. Among the TV shows that the school has been affiliated with are Starz Network's recent Power, Ghost and Raising Kanan productions.
The school is competitive, so only serious students are accepted. Click here to learn more!
---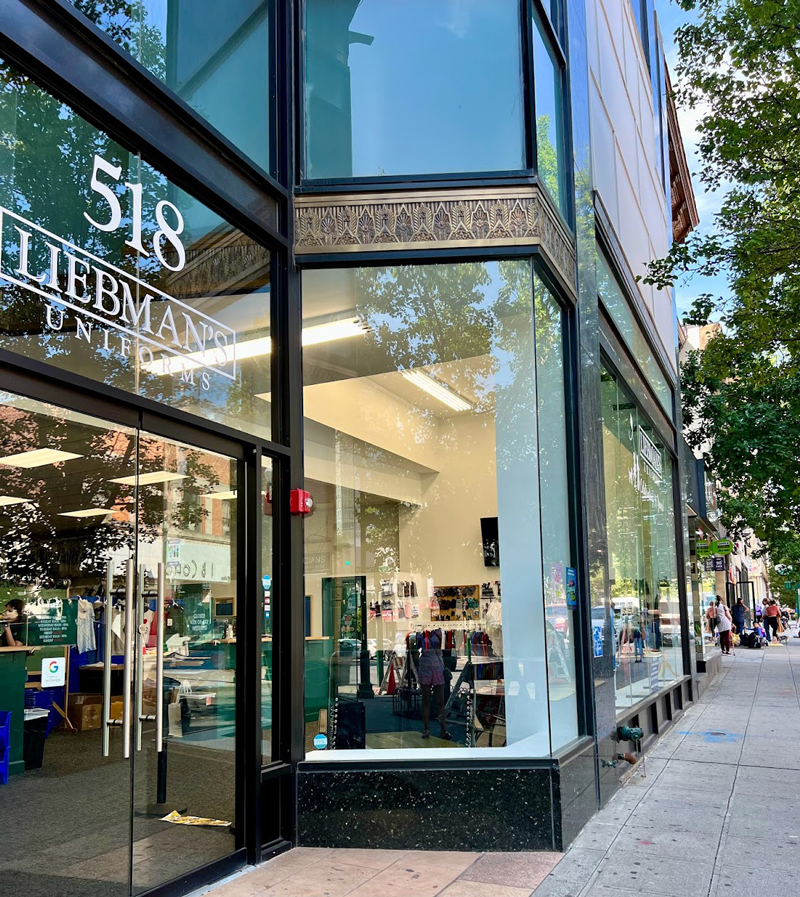 Back to School Means Back to Liebman's!
For the past 96 years, Liebman's has been the "go to" place for school uniforms in the area. Now in their new space at 518 Main St, they've tripled their staff and built new dressing rooms to make it easier than ever for everyone to get the "must haves" on their list. Online orderingis also available, which makes getting those uniforms for every area school much easier that it was in 1926.
Families can pick up the rest of their back-to-school items right on Main Street. There are a number of variety stores well-stocked with pencils, backpacks, notebooks and the like. If your child needs a new pair of glasses, Raymond Opticians at 521 Main St carries a large selection of children-sized frames.
You can also get your school physicals done Downtown. Head on over to Main St. Pediatrics at481 Main St suite 204 where Dr. Belkis Colon and Dr. Miki Mochizuki serve children from birth to age 21.
Whatever you have on your back-to-school list, we're ready to help you Downtown!
---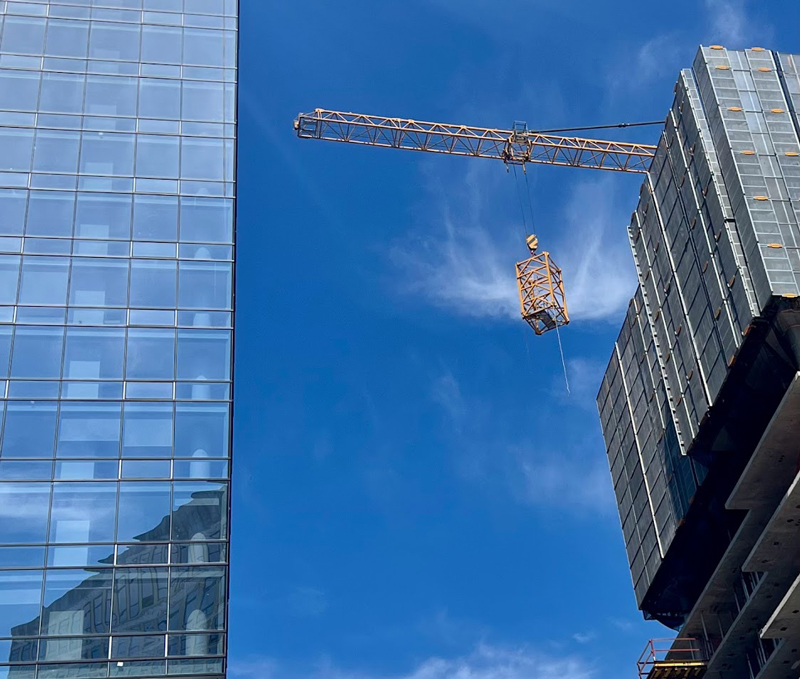 What's New?
Jolo's Vegan Café is back on Lawton St where they have added an a la carte menu to their kitchen dine-in options. This 100% healthy vegan restaurant has been ahead of the trends since 2008, serving fresh vegetables, plant-based proteins, and natural plant-based ingredients. Nothing fried — and no dairy, meat, fish, or eggs. They have great new hours on Monday-Friday from 11:00 am to 8:00 pm and on Saturday and Sunday from 1:00 pm to 8:00 pm.
Before heading to Jolo this Sunday, start your healthy day with a $5 outdoor yoga class with Westchester Yoga at 8:30 am in the New Ro Parc pop up.
Other exciting things coming soon to New Ro Downtown include:
Another great coffee spot coming at the Huguenot Building
New Leasing at 3Thirty3 luxury apartment building.
KRAVE to Go opening on the corner of Main St and Division St
September has the Annual Street Fair (now at City Hall) and a Latin Heritage Month celebration
October will feature the Queen City of the Sound International Jazz Festival and New Rochelle ArtsFest Weekend
November will have the wonderful Annual Thanksgiving Parade
---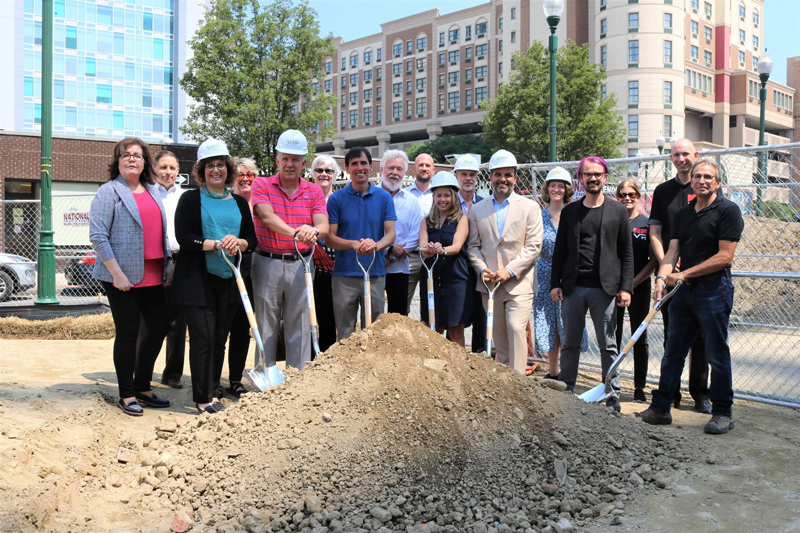 We hope that everyone has had a terrific summer so far. The hot weather is not done with us yet, so head on Downtown for some cool vibes, cool things to do, and plenty of cool people, music, and food to enjoy!

Karel

Karel Littman,
Executive Director
New Rochelle Business Improvement District (NRBID)
newrochelledowntownbid@gmail.com
PS FOLLOW us on Instagram (@newrodowntown) and LIKE us on Facebook (@newrodowntown).

Photos: New Rochelle Downtown BID, Groundbreaking: courtesy City of New Rochelle, New Roc City: courtesy of New Roc City.