December 17, 2021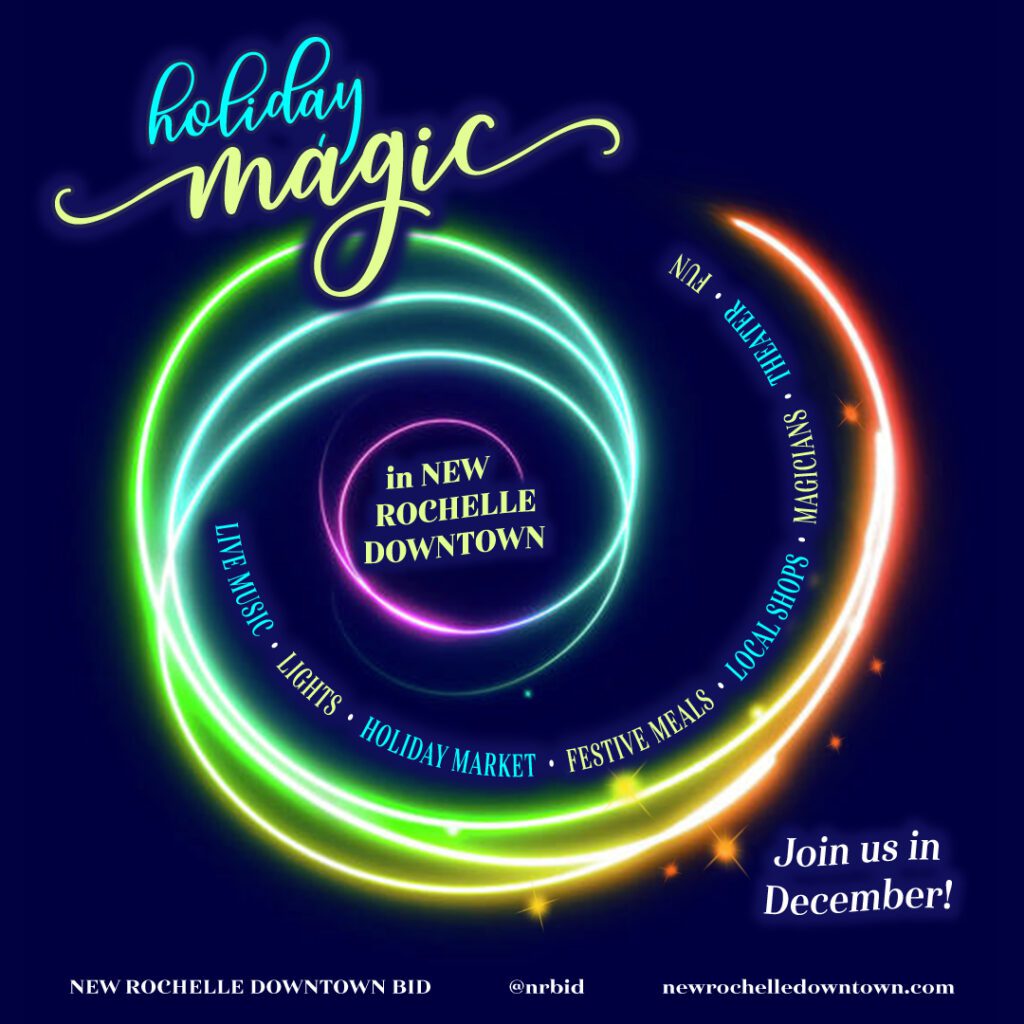 Downtown for the Holidays:
The Magic of the Season Is Here (and so is free parking)
Great news for the holiday shoppers and diners among us: Street construction has been temporarily suspended throughout the city until after the new year! Work on Main Street will resume on January 2nd and elsewhere on the 3rd.
Adding to the joy for Downtown visitors is free two-hour parking in our local lots.
There's certainly plenty to do. Start with pre-ordering your tickets to the latest movies showing at New Roc City's Regal Cinemax. Whether you are interested in the year's biggest movie, Spiderman, that opened this week or Steven Spielberg's version of West Side Story – or perhaps the family-friendly remake of Clifford – there's something on the big screen for everyone.
If you are feeling inspired by the new House of Gucci film starring Lady Gaga, Al Pacino, and Jared Leto, you may want to check out the terrific, vintage "Double G" accessories from Sweet Preserves at 543 Main St. or the designer-brand watches from TR Jewelers at 557 Main St.
Whether shopping for the holidays or for yourself, we certainly hope to see you Downtown this holiday season!
---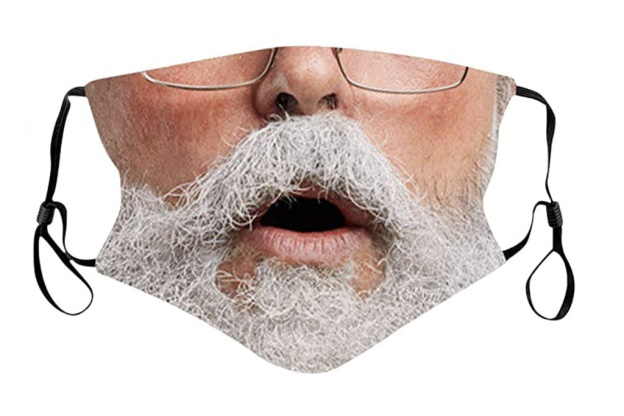 Staying Safe:
Businesses Adopt New State Guidelines
Keeping patrons, customers, and employees safe is always a top priority with our Downtown merchants and restauranteurs. That means making sure everyone complies with the latest health and safety requirements.
With New York State's new mask mandate that went into effect last Monday, Downtown businesses now require masks for individuals two years and older in all indoor places. Businesses and venues with a vaccine requirement may make masks optional.
The new indoor mask rule will stay in place through January 15th of next year. The State will then re-evaluate conditions and determine whether this safety requirement will stay in place. To read the full announcement from Governor Hochul's office, click here.
---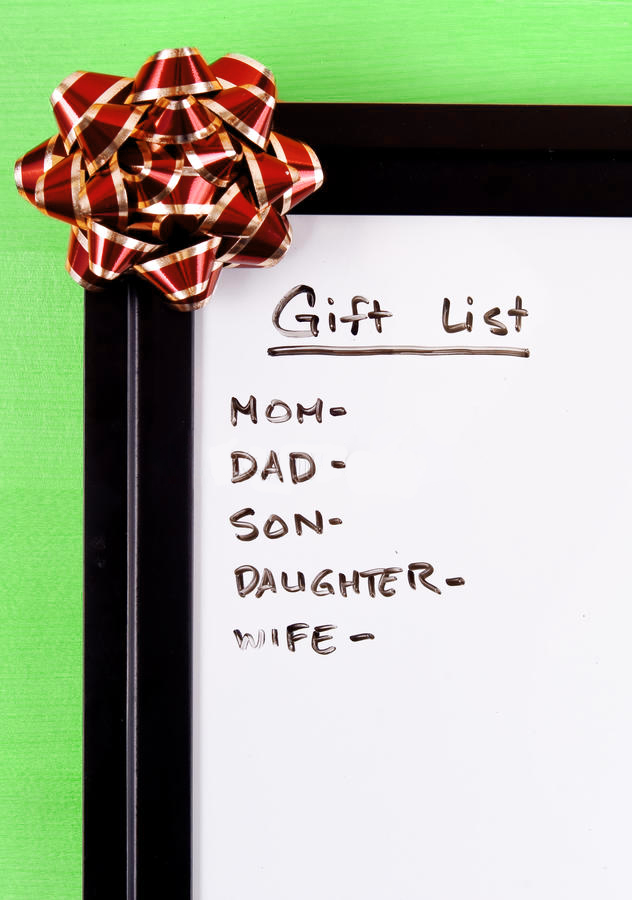 Still Have a Few Gifts on Your Shopping List?
Downtown Has You Covered
Our Downtown restaurants and small business merchants are here to help you find those last-minute gifts and reserve those fun, celebratory meals with family and friends. We may be late into the holiday season, but our merchants have diligently kept their shelves stocked to assist those among us who prefer to get their shopping done at the last minute.
With holiday celebration menus for catering and lots of great gift card options, "staying local" in New Rochelle is a great way to keep the holidays happy and stress-free. Why not treat yourself? Having our local chefs cook your special holiday meals may be just the gift YOU need! If you stopped by our inaugural Holiday Market at the New Rochelle Transit Center this month, chances are you've already sampled some of the great dishes available Downtown. Through the unique new NRBID SAMPLES program, market-goers enjoyed free delights from Downtown's Alicia's Bakery, Alvin & Friends, Colombian House, Golden Krust, Korean BBQ Grill, KRAVE, Modern, R Café and RocNRamen. What a delicious program!
---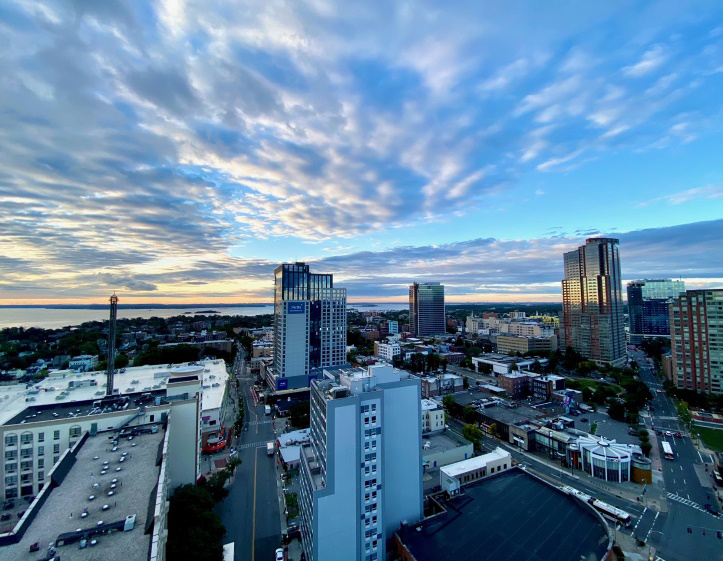 City Council Approves Extension of Downtown Overlay Zone, Improvements, and Additional Green Building Practices for Development Projects
This week, the New Rochelle City Council made sure that our Downtown transformation will continue to lead the country with environmentally sound urban development. They also showed their commitment to progress with programs for local Minority and Women Owned Business Enterprises (MWBEs), affordable housing policy improvements, and environment-friendly projects such as the LINC.
This next phase of improvements for New Rochelle and Downtown include extension of the Downtown Overlay Zone (DOZ) to encompass the Echo Bay waterfront, additional provisions for new open space and parkland, and more housing to meet surging demand. Enhanced requirements/incentives for sustainable building design, green infrastructure, and climate resiliency, including an allowance for offsite improvements that advance environmental justice are key additions that were approved.
---

VAEA
Glittering Benefit Brought Out the Stars
Congratulations to VAEA for its wonderful black tie benefit at New York City's Lincoln Center earlier this week. During the event, architects Frank Gehry and James Alcock were honored with the Paez Medal of Art. Governor Kathy Hocul served as Honorary Chair of the Gala. It was a beautiful, elegant event for this local art group located at 595 Main St in the former Lowes theater space.
---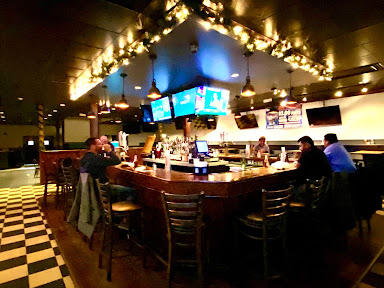 Spectators Named Among Westchester's "Favorite Bar" Honorees
Stop by Spectators at 227 North Ave any day of the week and chances are you'll find a friendly face you know. When owner Gary Torrigian and his partner Stevie Morris opened their doors, that was exactly what they had in mind. To borrow a line from the tv show Cheers, they sought to create a warm, casual place "where everyone knows your name."
This popular New Rochelle Downtown sports bar and restaurant has been welcoming friends old and new for more than 40 years.
It's a comfortable, come-as-you-are kind of place where anything goes. Some patrons arrive in relaxed weekend wear while others may be stopping by in professional attire after work – and some of wedding tuxes for a pre-reception tipple! There is also live music throughout the year that adds some extra excitement.
Their menu has something for everyone. It ranges from steak sandwiches to chicken piccata to their amazing meat loaf special every other Tuesday and beyond. (We HAVE to get that recipe!)
Their formula for success seems to be working as Spectators was named one of Westchester County's Top Bars by Westchester Magazine. Congratulations to them!
The owners are admirably community-minded and have always supported local charities and teams. Sadly, both owners founded their own charitable endeavors following both families' tragic loss of a child. They turned their grief into something to honor both children and help other families. One is called the Keith Morris Fund and the other Butterflies for Jody.
Be sure to stop by Spectators – they'd be very happy to "see" you!
---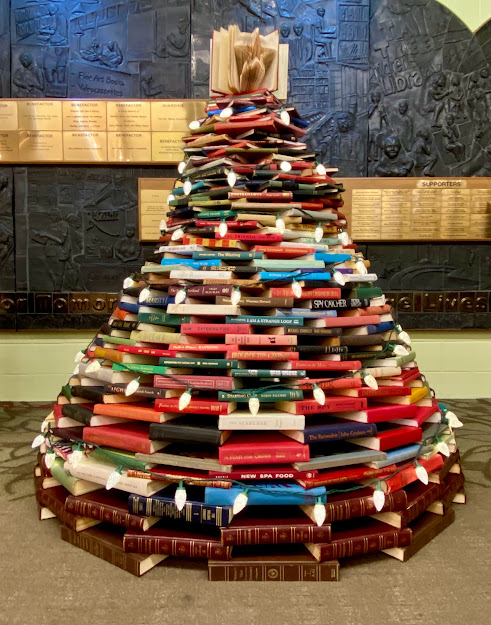 NRPL Masters the Art of Creativity and Vacation Week Magic
Once again, the New Rochelle Public Library shows that there is an art to being the most popular library in Westchester.
You may go to the library for the books and resource materials, but you should definitely linger for the art. There's plenty to appreciate!
The New Rochelle Art Association just kicked off its Adolph Grant Award Show in the Winter Lumen Gallery, which runs through Saturday, January 8th. Additionally, the NRPL just welcomed back an historic and treasured work by Norman Rockwell that had been on loan to the Norman Rockwell Museum. It is now in its place of honor in the Children's Room. Oh – and don't forget the creative holiday tree made out of cleverly stacked books.
Later this month, the NRPL will be focused on the art of fun and family when they offer some special programming to appeal to all ages. First up will be the Paper Bag Players at the NRPL's Ossie Davis Theater on Monday, December 27. Next will be some Winter Wonder Crafts programs on Tuesday, December 28, and Magician Joshy K, who will perform at Ossie Davis Theater on Wednesday, December 29. All programs are free of charge but tickets are required. You may pick up your tickets in the Children's Room at the Main Branch of the Library (1 Library Plaza) on the day of the program. Space is limited and tickets will be issued on a first come, first served basis.
---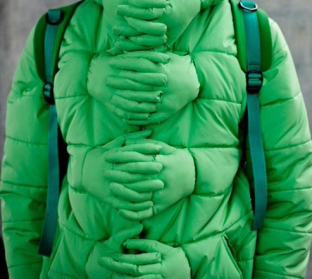 Monroe Students Help Those in Need
Monroe College prides itself on helping its neighbors and provides a number of opportunities throughout the year for its students, faculty, and staff to engage in important community service activities. This month, its Student Activities Club is sponsoring a special Coat and Canned Food Drive to assist local families and others in need. To donate, please contact Jackie Ruegger in the President's Office at jruegger@monroecollege.edu.
---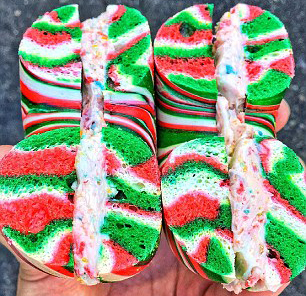 Cream Cheese Shortage? Not at Sammy's
The latest food shortage making headlines is…cream cheese. If you like your bagel with a shmear, Sammy's Bagels at 110 Centre Ave has you covered. Well, they'll have your bagel covered anyway.
Among the specialty flavors on hand: vegetable, scallion, jalapeno, olive, raisin, or even salmon. Put it on your bagel or take it home in a tub.
With their diverse selection of bagel options, the combinations are practically endless! Which is your favorite bagel? They have (in alphabetical order): Egg, Everything, Black Russian, Onion, Plain, Pumpernickel, Raisin, Sesame, and Whole Wheat.
Which ones are the most popular ones? Plain, Raisin and Everything.
Sammy's opens early for the breakfast crowd and closes at 3:00 pm. Be sure to get your holiday bagel breakfast order in early – and don't be late!
---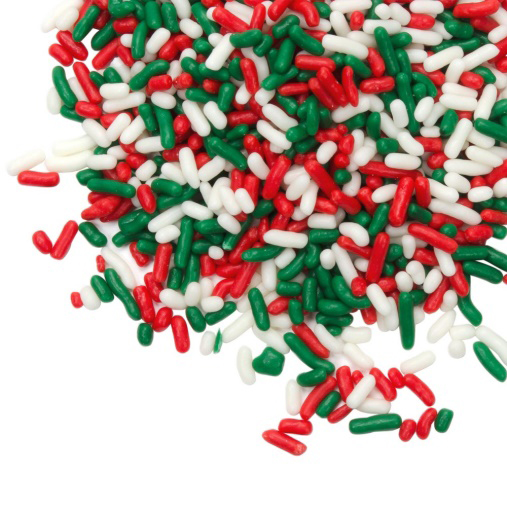 As 2021 comes to an end, we thank you for supporting our Downtown merchants and restauranteurs. Whether getting in some last-minute shopping or just relaxing over a delicious meal to unwind after a busy day, they certainly appreciate your patronage. The NRBID does, too.
We invite you to take advantage of the City of New Rochelle's gifts to us – the two free hours of parking in some of our most convenient parking lots and the moratorium on construction activity.
Come discover the many sprinkles of seasonal joy here in our Downtown District. We'll toast to the new year ahead!
Karel

Karel Littman,
Executive Director
New Rochelle Business Improvement District (NRBID)
newrochelledowntownbid@gmail.com
PS FOLLOW us on Instagram (@nrbid) and LIKE us on Facebook (@nrbid).